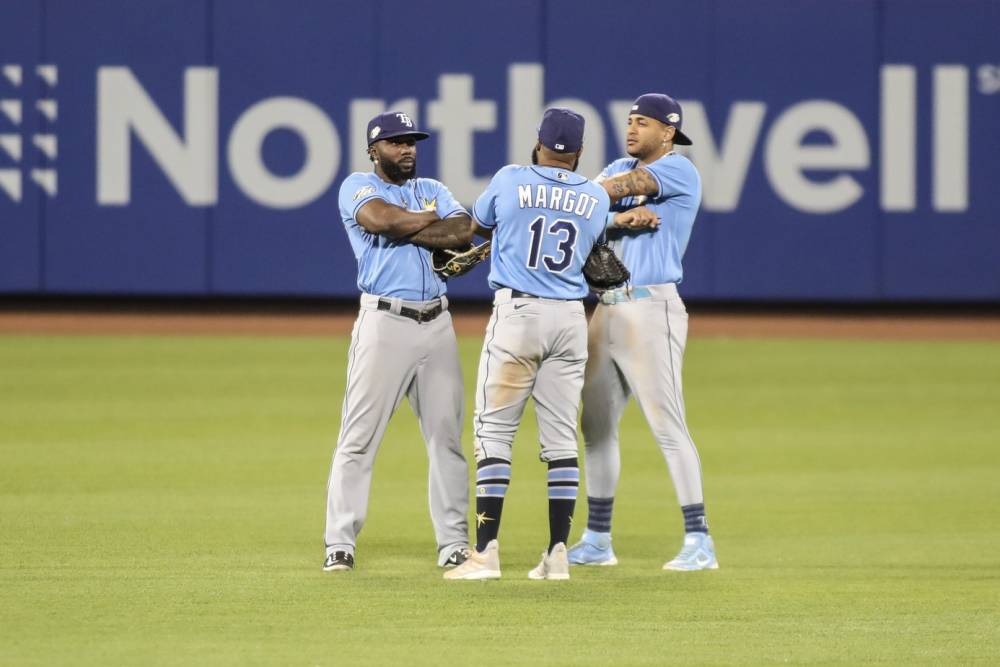 Mets vs Rays Prediction MLB Experts Picks 5/18
May 17, 2023, 11:16:58 PM
© Wendell Cruz-USA TODAY Sports
Introduction:
In a thrilling clash, the New York Mets (20-23) are set to face the Tampa Bay Rays (32-11) at Citi Field on May 18, 2023. The Rays have been on an impressive run this season, boasting a dominant record and showcasing their prowess in both pitching and hitting. With Taj Bradley on the mound and a formidable lineup led by Yandy Diaz, the Rays have a clear advantage in this matchup. This article will provide an in-depth review of both teams, analyzing their pitching, hitting, and injuries, to give a prediction on the outcome of the game.
Pitching Analysis:
The Tampa Bay Rays will turn to right-handed pitcher Taj Bradley (3-0, 3.52 ERA). Bradley has been solid on the mound, demonstrating excellent control and the ability to keep hitters off balance. With an ERA of 3.52 and a WHIP of 0.91, Bradley has proven to be a reliable starter for the Rays. He has struck out 23 batters while only allowing 2 walks in 15.1 innings pitched, highlighting his ability to limit baserunners and keep the opposing team's offense in check.
The New York Mets will counter with right-handed pitcher Tylor Megill (4-2, 4.02 ERA). Megill has shown flashes of brilliance but has also experienced inconsistency at times. With an ERA of 4.02 and a WHIP of 1.51, Megill has struggled to consistently keep runners off base. He has surrendered 5 home runs in 40.1 innings pitched, which could be a weakness the Rays' hitters look to exploit.
Hitting Analysis:
The Tampa Bay Rays boast a well-balanced and potent lineup, led by first baseman Yandy Diaz. Diaz has been on a tear, hitting .321 with 10 home runs and 24 RBIs. He sets the tone for the Rays' offense, showcasing an impressive combination of power and on-base skills. Alongside Diaz, Randy Arozarena has been a key contributor with 35 RBIs and 10 home runs, while providing a .312 batting average. The Rays' lineup poses a significant threat to opposing pitchers with their ability to produce runs consistently.
The New York Mets, despite their struggles this season, still possess a formidable hitter in Pete Alonso. Alonso leads the team with 14 home runs and 33 RBIs, displaying his power and run-producing capabilities. However, the Mets' offense has been inconsistent, lacking depth and support beyond Alonso. This lack of offensive production could be a significant disadvantage against the Rays' strong pitching staff.
Injuries:
The Tampa Bay Rays have a few players listed as day-to-day, including Curtis Mead, Yandy Diaz, and Tristan Peters. While their availability might be uncertain, the Rays' depth and versatility should allow them to overcome any potential absences.
The New York Mets have Tomas Nido on the 10-day injured list and Calvin William Ziegler listed as day-to-day. The absence of Nido could impact the Mets' catching depth, but it is unlikely to have a significant impact on the outcome of the game.
Prediction
Considering the pitching matchup and the balanced offensive firepower of the Tampa Bay Rays, they are the clear favorites to win this game against the New York Mets. Taj Bradley has been a reliable starter, displaying excellent control and limiting baserunners. The Rays' lineup, led by Yandy Diaz, has been consistently producing runs and poses a significant threat to opposing pitchers.
On the other hand, the Mets have struggled with inconsistency in their offense beyond Pete Alonso. Their lineup lacks depth and has been unable to consistently generate runs. Tylor Megill's inconsistencies on the mound could also be exploited by the Rays' potent lineup.
Furthermore, the Rays have been dominant on the road, boasting a 13-8 record away from home. This success away from their home stadium demonstrates their ability to perform well in different environments.
In conclusion, the combination of Taj Bradley's reliable pitching, the Rays' balanced offense, and their success on the road make them the clear pick to win this matchup against the New York Mets. Barring any unforeseen circumstances or significant shifts in performance, the Rays should continue their dominance and secure a victory in this game.
Pick: Rays ML
Upgrade to View Prediction
#1

#2