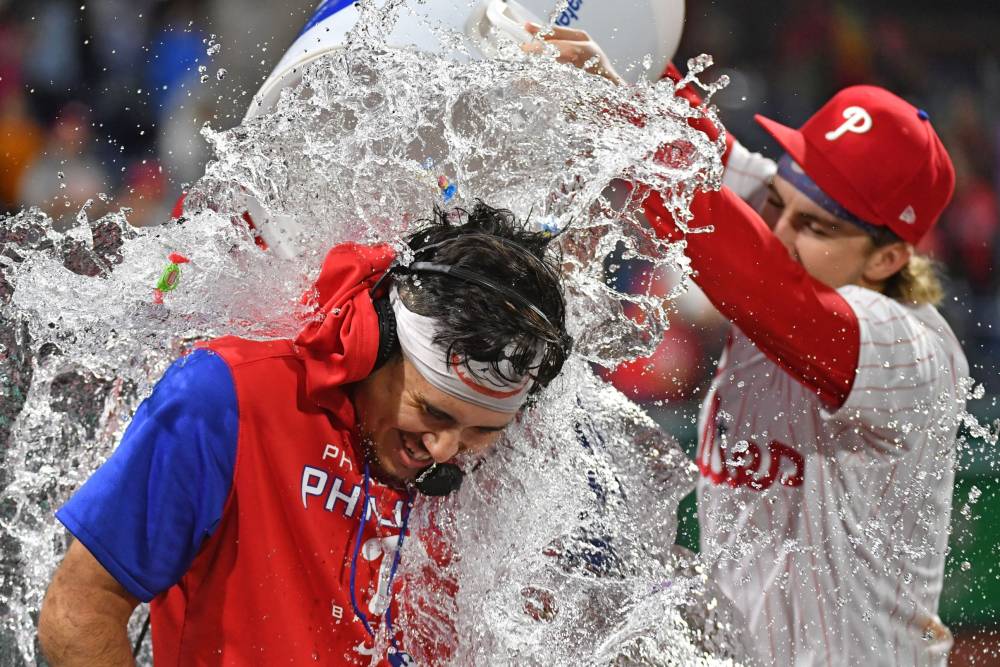 Mets vs Phillies Prediction MLB Picks Today 9/29
Sep 29, 2023, 4:40:23 AM
© Eric Hartline-USA TODAY Sports
Phillies vs Mets: MLB Predictions, Picks, and Expert Analysis
Get ready for a thrilling showdown as the Philadelphia Phillies face off against the New York Mets at Citi Field. Our team of MLB experts is here to provide you with an in-depth analysis of this game, and we'll explain our final prediction.
Game Details:
Date: September 29, 2023
Time: 4:10 PM
Location: Citi Field, Queens, New York
Capacity: 42,136
Line: Phillies (-120)
Over/Under: 8.5
Team Analysis:
Philadelphia Phillies:
The Philadelphia Phillies, holding a record of 89-70, are in the hunt for a postseason berth.
Hitting Analysis:
Kyle Schwarber leads the Phillies with a whopping 46 home runs and 101 RBIs, providing immense power to their lineup. The Phillies' hitting has been exceptional, and they've been a force to reckon with throughout the season.
With Bryce Harper and Nick Castellanos also delivering impactful performances, the Phillies have the offensive prowess to score runs consistently.
Facing Tylor Megill, the Phillies' hitters will aim to exploit any weaknesses and put runs on the board early.
Pitching Analysis:
Taijuan Walker will be the starting pitcher for the Phillies, carrying a 15-5 record with a 4.35 ERA. Walker has been a key asset, delivering quality starts for the team.
Walker's performance will be critical in this game. He needs to keep the Mets' batters at bay and prevent early runs. The Phillies' bullpen will also play a significant role, particularly in late-game situations.
New York Mets:
The New York Mets, with a record of 72-86, look to finish their season on a positive note.
Hitting Analysis:
Pete Alonso leads the Mets with 46 home runs and 117 RBIs, showcasing his offensive prowess. The Mets' hitting has had its moments of brilliance, and they possess the capability to score runs in bunches.
With players like Brandon Nimmo and Jeff McNeil contributing, the Mets aim to challenge Taijuan Walker's pitching.
Pitching Analysis:
Tylor Megill will take the mound for the Mets, holding an 8-8 record with a 4.92 ERA. Megill, though showing promise, has faced some challenges on the mound.
Megill will need to bring his best against a potent Phillies lineup. However, with the Phillies' ability to capitalize on mistakes, Megill will have to be precise.
The Mets' bullpen will play a vital role in securing a win, especially if they have a lead late in the game.
Prediction:
Considering the offensive capabilities of both teams and the starting pitchers' occasional struggles, we predict that the over of 8.5 runs is the smartest bet for this game.
With Kyle Schwarber and Pete Alonso leading their respective lineups, both teams have the firepower to score runs consistently. The occasional pitching lapses on both sides further support the likelihood of a high-scoring contest.
If you're looking for an exciting bet with potential for a big payout, the over of 8.5 runs is the way to go in this matchup.
For more expert MLB analysis, predictions, and betting tips, stay tuned to KingPin.pro.
Pick: Over 8.5 Runs
Upgrade to View Prediction
#1

#2