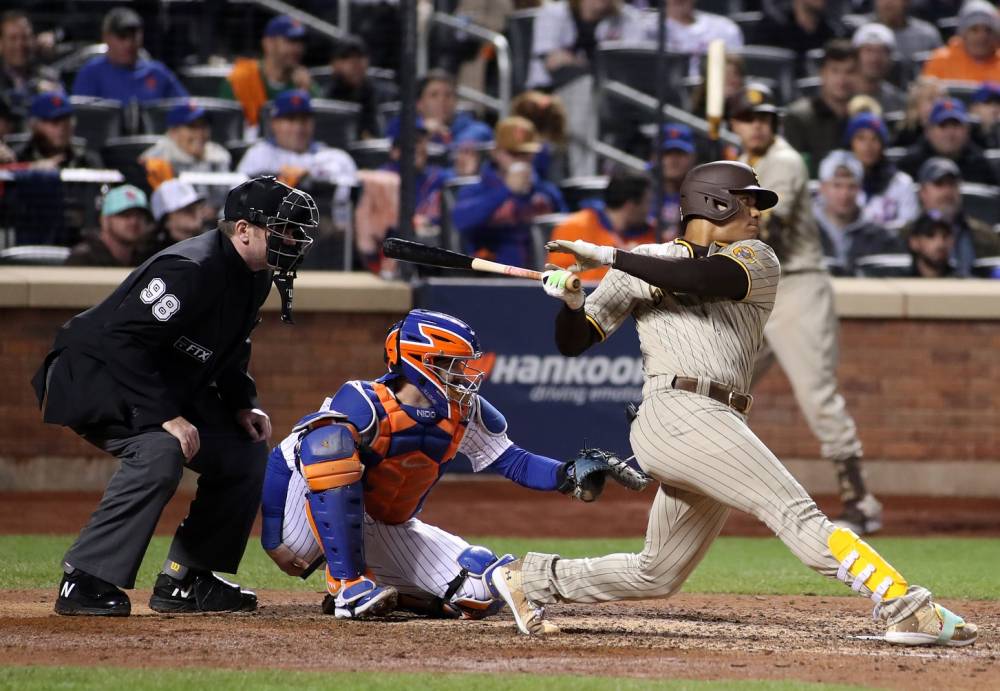 Mets vs Padres Prediction KingPin Pro MLB Picks Today 4/11
Apr 10, 2023, 8:16:51 PM
© Wendell Cruz-USA TODAY Sports
Game Preview: San Diego Padres vs. New York Mets – April 11, 2023
The San Diego Padres will take on the New York Mets in a highly anticipated matchup on April 11, 2023. As the MLB season heats up, experts and computer MLB picks alike are buzzing about this game. With predictions ranging from the Padres to come out on top to an even match, everyone is eager to see how this game will play out. The Padres come into this game with a 6-4 record, and are 3-1 on the road. They have won five of their last six games and are looking to continue their hot streak. On the other hand, the Mets are 5-5 overall and 2-1 at home. They are coming off a tough loss against the Miami Marlins and will be looking to bounce back in this game. MLB picks experts and MLB picks computer predictions are pouring in as fans eagerly await the first pitch.
Padres: Pitching Analysis
The San Diego Padres have made significant improvements in their pitching staff over the past few years, and this season looks no different. With multiple MLB picks experts and computer models predicting a strong season for the Padres, it's essential to analyze the team's pitching performance. The Padres' starting rotation has been impressive so far this season, with Ryan Weathers leading the way as the team's best pitcher. Weathers has a 0-0 record so far, but his impressive 3.60 ERA and 1.20 WHIP make him a top pick among MLB picks and parlay. David Peterson will take the mound for the Mets, and he'll have his work cut out for him against the Padres' lineup. Peterson has struggled so far this season with a 0-1 record and a 6.00 ERA. Despite Peterson's struggles, the Mets have a solid bullpen, with Adam Ottavino leading the way as the team's best reliever.
Padres: Hitting Analysis
When it comes to making MLB picks, experts and computer MLB picks and predictions can be helpful, but a closer look at a team's hitting performance can also give insight into potential outcomes. In the case of the San Diego Padres, their offense has been productive so far this season. With a .242 batting average and 5 runs per game, the Padres have a solid offense that can put runs on the board. They also have power hitters like Xander Bogaerts, who has hit 3 home runs so far this season. Nelson Cruz has also been a valuable addition to the team, with 9 RBIs and 2 home runs. While the team's batting average may not be the highest in the league, they make up for it with their slugging percentage of .448, which ranks 6th in the league. The Padres also have a well-rounded offense, with contributions from players like Starling Marte and Jurickson Profar.
Mets: Pitching Analysis
When it comes to pitching, the New York Mets have a strong advantage over their opponents in the upcoming game against the San Diego Padres. MLB picks experts, both computer and human, are favoring the Mets to win and it's easy to see why. David Peterson will take the mound for the Mets, sporting a 0-1 record, but an impressive 2.11 ERA and 10 strikeouts in just over 21 innings pitched. Peterson has been a bright spot in the Mets' rotation and will look to continue his success against the Padres. On the other side, the Padres will send Ryan Weathers to the mound. Weathers is a rookie with just two starts and six innings pitched under his belt. While he has yet to allow a run, he has struggled with control, issuing four walks in his limited time on the mound. Weathers will have a tough task ahead of him facing the powerful Mets lineup.
Mets: Hitting Analysis
The New York Mets have shown flashes of brilliance at the plate this season, but inconsistency and injuries have hampered their offensive output. However, MLB picks experts and computer MLB picks & predictions suggest that the Mets have the potential to break out at any moment. Currently sitting at a .216 team batting average, the Mets are in the bottom third of the league in hitting. However, the return of key players like Jeff McNeil and Michael Conforto from the injured list could give the team a much-needed boost. Plus, the addition of superstar shortstop Francisco Lindor in the offseason has already paid dividends, as he leads the team with a .262 batting average and four home runs. While their batting average may be lower than desired, the Mets have shown power potential with 20 home runs in their first ten games. Pete Alonso, who won the 2019 Home Run Derby, has launched five home runs already this season, and players like Dom Smith and James McCann have also contributed with multiple long balls. In terms of MLB picks and parlay options, the Mets could prove to be a risky bet given their inconsistency at the plate. However, if they can put it all together, they
Injury Report
As with any sport, injuries are a common occurrence in baseball. The San Diego Padres and New York Mets both have players dealing with injuries, which could have an impact on their upcoming matchup. For the Padres, Fernando Tatis Jr. is currently serving a suspension and is unavailable for this game. Joe Musgrove is also on the 15-day injured list and David Dahl is on the 10-day injured list, which could impact the team's lineup and pitching rotation. As for the Mets, Sam Coonrod is on the 60-day injured list and Calvin William Ziegler is out. Omar Narvaez is currently on the 10-day injured list and Matthew Bruce Allan is day-to-day. While both teams have experienced several injuries, they still have plenty of talent and depth to put up a good fight in this game.
Player
Team
Position
Injury Status
Fernando Tatis Jr.
San Diego Padres
RF
Suspension
Joe Musgrove
San Diego Padres
SP
15-day IL
David Dahl
San Diego Padres
RF
10-day IL
Noel Vela
San Diego Padres
SP
day-to-day
Alek Jacob</td
Prediction
Based on the stats, the San Diego Padres are likely to win the game against the New York Mets. The Padres have a better overall record than the Mets with a 6-4 record, compared to the Mets' 5-5. The Padres have a 3-1 record on the road, which indicates that they perform well away from home. Furthermore, Ryan Weathers, the Padres' probable pitcher, has a better ERA and WHIP than David Peterson, the Mets' probable pitcher. The Padres have a better batting average than the Mets, which should give them an advantage in scoring runs. Finally, the Padres have won their last three games, which means that they are coming into this game with momentum on their side.
Pick: Padres ML
Upgrade to View Prediction
#1

last 30 days winnings
$44,200
Yesterday winnings
$3,840
#2

last 30 days winnings
$28,610
Yesterday winnings
$2,430