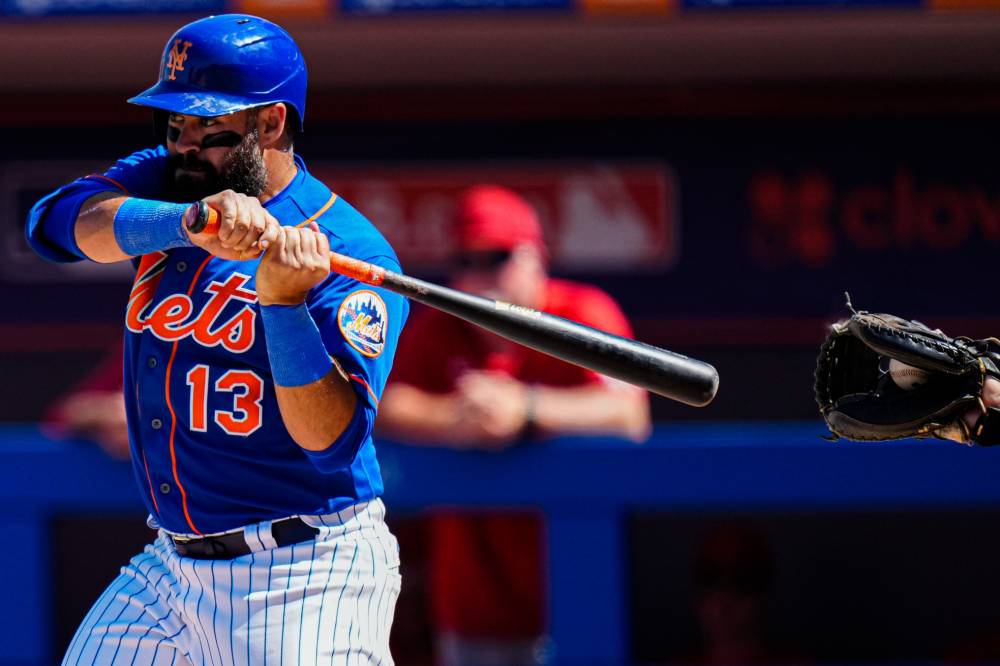 Mets vs Nationals Prediction MLB Picks Today 3/16
Mar 16, 2023, 12:04:58 AM
© Rich Storry-USA TODAY Sports
As we approach the exciting matchup between the New York Mets and the Washington Nationals on March 16, 2023, at 6:05 PM, our team at KingPin.pro has been busy analyzing each team's performance, injuries, and potential outcomes. Our MLB expert picks will help guide you through the betting process and give you the confidence to make informed decisions. With the Kingpin.pro iOS and Android app, you'll have access to all the latest mlb picks for today, mlb picks and parlays, and mlb predictions 2023, right at your fingertips.
New York Mets
Hitting
The New York Mets' offense has been relatively solid this season, with a team batting average of .262 and 99 runs scored. The power has been evident with 21 home runs, led by Ronny Mauricio, who has hit 4 HRs and driven in 8 RBIs with a .269 batting average. Mark Vientos has also contributed to the Mets' offense, leading the team with 9 RBIs and hitting 2 home runs with a .282 average. Despite these standout performances, the Mets need more consistency from their lineup to increase their chances of winning games.
Pitching
The Mets' pitching has been inconsistent, posting a 4.89 ERA and a 1.40 WHIP. The staff has had difficulty limiting walks, issuing 68 free passes, while striking out 155 batters. To improve their chances in this matchup, the Mets' pitchers need to focus on throwing strikes and limiting the damage done by the Nationals' hitters.
Washington Nationals
Hitting
The Washington Nationals have been struggling offensively, with a team batting average of .250 and 69 runs scored. The power production has been lacking, as they've only hit 11 home runs so far. The team has been led by Luis Garcia, who has 6 RBIs and 1 HR with a .281 average. Riley Adams has contributed with 2 HRs and 2 RBIs, batting .200. The Nationals need to find more consistency and power in their lineup if they want to come out on top against the Mets.
Pitching
The Nationals' pitching staff has fared better than their hitting, with a 4.38 ERA and a 1.35 WHIP. They have issued 47 walks while striking out 123 batters. To keep the Mets at bay, the Nationals' pitchers must limit walks and keep the ball in the park. If they can accomplish this, they have a better chance of securing a victory.
Injuries
New York Mets:
Abraham Almonte (CF) - Out (Mar 13)
Darin Ruf (1B) - Day-To-Day (Mar 14)
Sam Coonrod (SP) - Out (Mar 15)
Washington Nationals:
Israel Pineda (C) - Day-To-Day (Mar 14)
Victor Arano (RP) - Out (Mar 14)
Cade Cavalli (SP) - Out (Mar 14)
Sean Doolittle (RP) - Out (Mar 15)
Prediction
With both teams struggling offensively, this game could come down to which pitching staff performs better. The Mets have shown more power in their lineup, while the Nationals have had a slightly better pitching performance. However, neither team has been dominant in either category, making this game a toss-up.
Considering the injuries and recent performances, we predict a close game. The Mets' lineup may have the edge due to their power potential, but the Nationals' pitchers have a chance to step up and make a difference in the game. This contest could go either way, making it n exciting and unpredictable matchup for both teams and their fans.
Pick: New York Mets
#1

#2