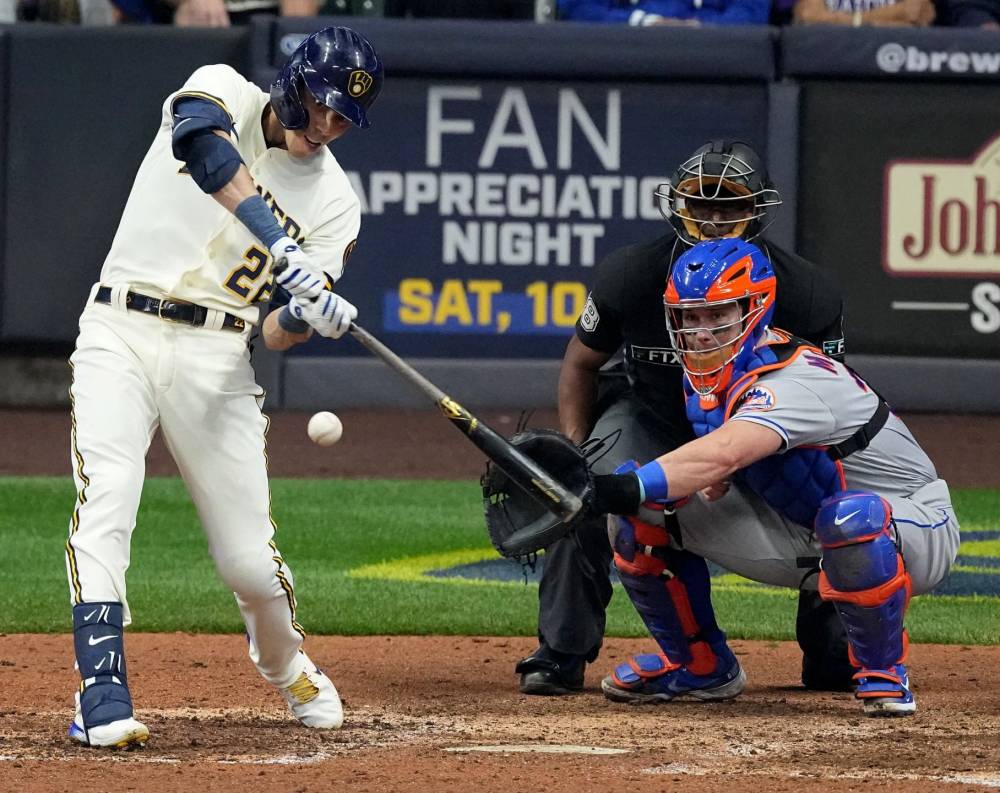 Mets vs Brewers Prediction, Odds, Stats and Score 4/3
Apr 2, 2023, 9:35:12 PM
© Mark Hoffmann / Milwaukee Journal Sentinel / USA TODAY NETWORK
Game Preview: Mets vs Brewers – MLB Picks, Odds, and Parlays for April 3, 2023
The New York Mets are set to face the Milwaukee Brewers in an exciting MLB game on April 3, 2023, at American Family Field in Milwaukee, Wisconsin. As the teams prepare to battle it out, experts are making their MLB picks, computer-based predictions, and offering their MLB picks and parlays for the game. Both teams have started the season with positive records, with the Mets standing at 3-1, including a three-game winning streak, and the Brewers at 2-1, with their only loss coming in a close game against the Chicago Cubs. This matchup is expected to be closely contested, with analysts predicting both teams to have almost equal chances of winning. The latest odds for the game have the Brewers as a slight favorite at -125, with an over/under of 7.5 runs. As the game approaches, MLB experts are analyzing player stats, team performances, and other factors in making their MLB picks today. This game is sure to be an exciting one for fans and bettors alike. Stay tuned for a full-length prediction article with in-depth analysis and insights into the Mets vs Brewers game on April 3, 2023.
Mets: Pitching Analysis
The New York Mets have had a strong start to the season, going 3-1 in their first four games. Their pitching staff has been a key part of their success, with an impressive 2.42 ERA through those first four games. As they take on the Milwaukee Brewers on April 3, 2023, the Mets will need their pitching staff to continue their strong performance. According to MLB picks and predictions from experts and computers, the Mets are currently projected to win just 42.9% of the time against the Brewers. However, the Mets have a strong record as underdogs, going 21-16 in that role in recent seasons. When it comes to MLB picks and parlays, the Mets may not be the obvious choice, but their pitching staff could give them an edge. The Mets have a strong record against the spread, going 3-1 ATS in their first four games. They also have favorable odds in the moneyline, with a consensus pick of +105. If you're looking for the best MLB bets today, the Mets may be worth considering. Their strong pitching staff could give them an edge against the Brewers, despite what the experts and computers predict. Keep an eye on the pitching matchups and the Mets' recent performance as you make your MLB picks for today. Overall, the Mets are a team to watch as the season progresses. Their pitching
Mets: Hitting Analysis
When it comes to hitting, the Mets have a strong lineup that is expected to perform well this season. MLB picks experts and computer MLB picks and predictions have the Mets as one of the best hitting teams in the league. This includes leadoff hitter Tommy Pham, who has a batting average of .444 and has already hit one home run this season. Starling Marte is also expected to be a key contributor, with a batting average of .357 and impressive on-base and slugging percentages. In terms of the best MLB bets today, the Mets' hitting lineup is a good place to start. MLB picks with spread are favoring the Mets to score some runs against the Brewers, and MLB predictions today suggest that the team will win the game outright. Mets' odds are also reflecting their strong hitting potential, with the moneyline consensus pick in their favor. Overall, the Mets have a strong hitting lineup that is expected to perform well this season. Baseball fans should keep an eye on the team's hitting performance, as it could be a key factor in their success this year.
Brewers: Pitching Analysis
The Milwaukee Brewers have made some significant changes to their pitching staff in the offseason, and it shows in the early predictions from MLB picks experts. The Brewers are expected to have a competitive pitching staff this season, with both the computer and MLB picks emp predictions favoring their chances. Starting with the starting rotation, the Brewers have brought in some experienced arms to bolster their staff. Carlos Carrasco was acquired in a trade with the New York Mets, and he is expected to slot in as the team's ace. Freddy Peralta, who had a breakout season in 2022, is expected to take another step forward and provide a solid number two option. The rest of the rotation is expected to be filled out by Wade Miley, Bryse Wilson, and Brandon Woodruff, who all have had success in the past and will look to build upon that in 2023. In the bullpen, the Brewers have one of the best arms in the game in Devin Williams. He is expected to be the team's closer and is projected to have a dominant season. The rest of the Brewers bullpen is solid as well, with names like Matt Bush, Eric Lauer, and Joel Payamps expected to contribute to a strong relief corps. Overall, the Brewers pitching staff looks solid on paper. While there are always variables and unknowns in any season, it's safe to say that the Brewers have a good chance to be a pitching force in the league
Brewers: Hitting Analysis
When it comes to hitting, predictive models and expert MLB picks tend to struggle, as it relies heavily on individual player performance and can be difficult to forecast accurately. However, looking at current statistics and past trends, we can make some predictions for the Brewers' hitting performance this season. So far this season, the Brewers have struggled at the plate, with a team batting average of only .164 and a total of five runs scored in three games. Their on-base percentage is also lacking, at .271. However, there are some bright spots in the lineup. Outfielder Christian Yelich, who had a disappointing season last year due to injuries, has already picked up two hits and an RBI in just three games. Infielder Luis Urias has also shown promise, with a .500 on-base percentage in just one game played. If these players can stay healthy and consistent, they could provide a significant boost to the Brewers' offensive production. Additionally, the return of first baseman Keston Hiura, who is currently in the minor leagues, could provide some much-needed power to the lineup. Overall, while the Brewers may continue to struggle with hitting in the short term, if key players can step up and the team can maintain consistency, they have the potential to improve and be a competitive force in the National League Central.
Injury Report
As the MLB season progresses, injuries become a part of the game. Teams must navigate their way through injuries to key players and adjust their lineups accordingly. Here's an update on the injury report for the Mets and Brewers. For the Mets, Bryce Montes de Oca has been placed on the 15-day injured list as of March 30th. Abraham Almonte is currently day-to-day. Meanwhile, the Brewers have a few more players on their injury report. Aaron Ashby and Adrian Houser have both been placed on the 15-day injured list as of March 29th. Luis Urias is on the 10-day injured list as of April 1st. Justin Wilson, unfortunately, is on the 60-day injured list as of April 1st. Devin Williams is currently day-to-day as of April 2nd. Injuries can undoubtedly impact a team's performance on the field. However, both the Mets and Brewers have strong rosters, and it will be interesting to see how they handle these injuries as the season progresses.
Player
Team
Position
Injury Status
Bryce Montes de Oca
New York Mets
RP
15-day IL
Abraham Almonte
New York Mets
CF
day-to-day
Aaron Ashby
Milwaukee Brewers
SP
15-day IL
Adrian Houser
Milwaukee Brewers
SP
15-day IL
Luis Urias
Milwaukee Brewers
2B
10-day IL
Justin Wilson
New York
Prediction
In today's MLB matchup between the New York Mets and the Milwaukee Brewers, the computer experts predict a close game with a slight edge going to the Brewers. However, as an MLB expert, my pick for today's game is the New York Mets. While the Brewers have a solid defense and pitching staff, the Mets have a strong hitting lineup with players like Tommy Pham and Starling Marte leading the charge. Additionally, the Mets' pitcher Carlos Carrasco has proven to be a valuable asset on the mound. My best MLB bet for today is taking the Mets with the spread. With their offensive prowess and talented pitching, the Mets have what it takes to secure a victory in this matchup.
Pick: Mets
Upgrade to View Prediction
#1

#2