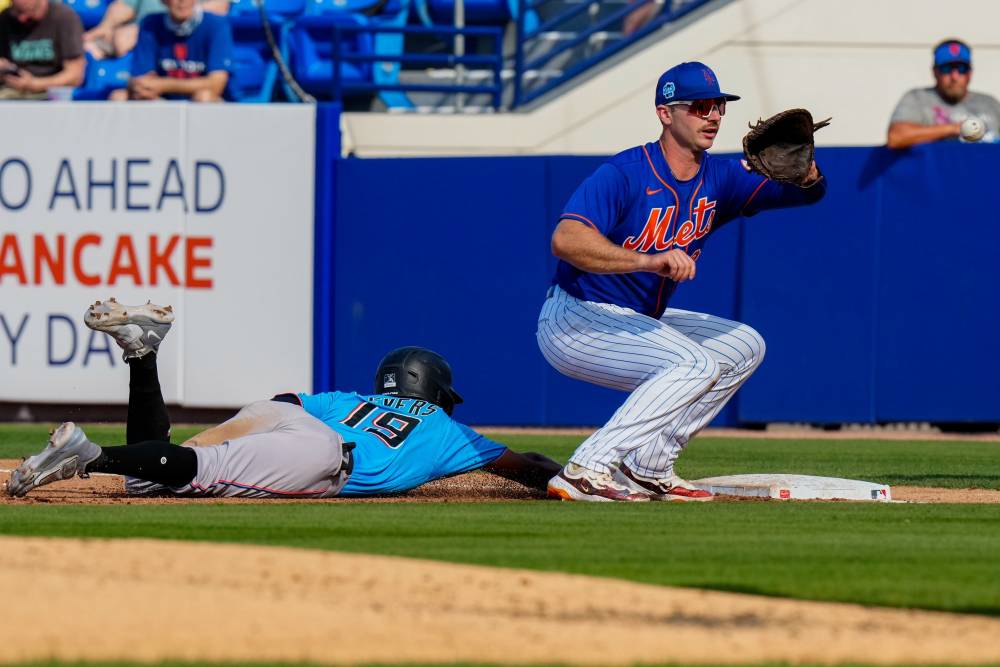 Marlins vs Mets Prediction and MLB Picks for Today 03/31
Mar 30, 2023, 10:58:46 PM
© Rich Storry-USA TODAY Sports
Mets vs Marlins MLB Game Preview - March 31, 2023
As the MLB season kicks off, the New York Mets will face off against the Miami Marlins in a battle of National League East rivals. MLB picks experts and predictor engines are closely analyzing this matchup, with many MLB picks and parlays being made. The Mets are favored with a moneyline of -120, while the Marlins sit at +100. The consensus pick is currently split, with the Matchup Predictor giving the Marlins a slight edge with a 57.0% chance of winning. The game will take place at loanDepot Park in Miami, Florida, and will feature starting pitchers David Peterson for the Mets and Jesus Luzardo for the Marlins. Both teams have a lot to prove this season, with the Mets hoping to make a deep run in the playoffs with their revamped lineup and strong pitching staff. Meanwhile, the Marlins are aiming to build upon the progress they made last season with their young core of players. MLB picks and predictions are often based on a team's past performance, as well as their current roster and statistics. The Mets boast a strong offense, ranking in the top five in runs scored per game and total bases per game. Their defense is also solid, ranking in the top ten in run differential and earned run average. The Marlins, on the other hand, have struggled on offense in recent years, ranking towards the bottom of the league in most offensive categories. However, their pitching staff has shown promise, with a strong rotation and bullpen. Ultimately, this matchup will be a test for both teams as they look to start the season off on the right foot. With expert analysis and statistical projections, MLB picks and picks with spread will be made, but the outcome of the game remains to be seen. Fans of both teams will tune in to see who comes out on top in this early-season battle.
Mets Pitching Analysis:
As the New York Mets gear up for the upcoming MLB season, fans and analysts alike are looking at the team's pitching staff as a key factor in their success. With a solid rotation bolstered by new additions, the Mets are expected to have a strong showing on the mound. MLB picks experts and computer models alike are predicting a promising season for the Mets' pitching staff. The team's unique mix of veteran experience and young talent make for an exciting ensemble, with analysts projecting a top-tier rotation. MLB picks and parlays are showing the Mets as a strong contender in the National League East, with expert picks and predictions favoring the team's talented pitching staff as a key factor in their success. With a solid bullpen and reliable starters, the Mets are poised for a successful season on the mound. As for specific games, expert picks and odds show the Mets as favorites in many matchups, with favorable betting lines and spread predictions. Fans and analysts alike are predicting big things for the Mets' pitching staff this season, and are eager to see the team take the mound and perform at their best.
Mets: Hitting Analysis
As the baseball season approaches, MLB experts, computer MLB picks, and predictions are rolling in. Many are wondering how the New York Mets will fare in terms of hitting this season. According to MLB today experts, the Mets are expected to perform well at the plate. They have a strong batting average and on-base percentage, ranking #2 and #3 in the league respectively. Their runs per game and total bases per game also rank in the top 10. MLB picks and parlay options are available for those looking to make some bets on the Mets' hitting performance this season. MLB experts picks today also indicate that the Mets have a good chance of performing well against their upcoming opponents. In terms of spread and odds, the Mets are expected to be a tough team to beat. They have a solid lineup and have made some key additions to their roster this offseason. Overall, the Mets are predicted to have a strong season at the plate. Their hitters are expected to put up solid numbers and help the team secure a playoff spot. Keep an eye out for the Mets as they look to make a strong push towards the World Series this year.
Marlins: Pitching Analysis
The Marlins pitching staff is one of the most underrated units in the league. While they may not have the big names that other teams possess, they have a deep and effective rotation that can give opposing hitters fits. The experts at MLB Picks and Computer MLB Picks have predicted that the Marlins will be a force to be reckoned with this season. Their predictions and analysis are based on the impressive performances of the team's starting pitchers. One of the key players to watch on the Marlins' pitching staff is Jesus Luzardo. The left-handed pitcher has a powerful arsenal of pitches, including a devastating fastball and a sharp slider. He is expected to have a breakout season and establish himself as one of the Marlins' top starters. Another pitcher to keep an eye on is David Peterson. The 27-year-old lefty showed flashes of brilliance last season and has the potential to be a star in the making. With a solid repertoire of pitches, including a lethal curveball, he could be one of the most improved players on the team this year. Overall, the Marlins pitching staff is well-positioned to succeed in the coming season. The experts at MLB Picks and Parlay predict that the team will continue to improve and surprise many of their opponents. With solid starters and a deep bullpen, they have the potential to be one of the most dominant pitching teams in the league.
Marlins: Hitting Analysis
The Miami Marlins struggled with their hitting in the 2022 season, and it remains to be seen whether they will improve in the upcoming 2023 season. MLB picks experts, MLB picks computer, and MLB picks empiric predictions have all predicted that the Marlins will be in the bottom tier of the league in terms of hitting. However, the Marlins have some talented players on their roster, and they may surprise some people. The Marlins offense was ranked 28th in the league last season, with an average of only 3.62 runs per game. They were also ranked 22nd in the league in terms of their win percentage. The Marlins had a hard time producing big hits, with an average of only 0.89 home runs per game, which was one of the lowest averages in the league. One bright spot for the Marlins offense is outfielder Jesus Sanchez, who showed promise in his rookie season in 2022. Sanchez hit .251 with six home runs and 28 RBIs in 55 games. He was also ranked in the 87th percentile in hard-hit rate and in the 91st percentile in exit velocity. Another player to watch on the Marlins' roster is first baseman Lewin Diaz. Diaz struggled in his first full season in the majors, hitting .236 with nine home runs and 47 RBIs in 138 games. However, Diaz has shown power potential in the minor leagues, hitting 27 home runs in 2019. If he can tap into that power at the major league level, he could be a major contributor to the Marlins' offense. Overall, the Marlins have a lot of work to do to improve their hitting in the upcoming season. While they may not be among the league's leaders in offense, they do have some talented players who could surprise some people. MLB today experts, MLB picks with spread, and MLB picks for today all predict that
Injury Report
As the MLB season kicks off, injuries are always a concern for teams and fans alike. The New York Mets will be without the services of Justin Verlander and Bryce Montes de Oca, both of whom are on the 15-day injured list. Meanwhile, Abraham Almonte is listed as day-to-day. The Miami Marlins have a few injuries to keep an eye on as well, with Jacob Andrew Eder out and Max Meyer on the 60-day injured list. Tommy Nance, Steven Okert, and Nic Enright are all listed as day-to-day. These injuries could certainly have an impact on the predictions made by experts and computers when making MLB picks and predictions. It will be interesting to see how these injuries affect the matchups for today and the rest of the season. As always, it's important to keep an eye on the injury report and adjust your MLB picks and parlays accordingly.
Player
Team
Position
Injury Status
Justin Verlander
New York Mets
SP
15-day IL
Bryce MontesdeOca
New York Mets
RP
15-day IL
Abraham Almonte
New York Mets
CF
day-to-day
Jacob Andrew Eder
Miami Marlins
P
out
Max Meyer
Miami Marlins
SP
60-day IL
Tommmy Nance
Miami Marlins
RP
15-day IL
Steven Okert
Miami Marlins
RP
15-day IL
Nic Enright
Miami Marlins
Prediction:
As the MLB season kicks off, experts and computer-generated MLB picks and predictions will be flooding the internet. It's important to do your research before placing any bets. That being said, my pick for today's game is the Miami Marlins. Yes, they may not be the favorite, but they have a solid defense and starter in Jesus Luzardo. Plus, they have been performing well in stolen bases, which could give them an edge over the Mets. As always, betting can be unpredictable, so it's important to bet responsibly and only bet what you can afford to lose. Remember, always consult with MLB picks and parlay experts before making any decisions. Additionally, stay up to date on MLB picks with spread, MLB predictions today, and MLB picks for today to make informed decisions. Best MLB bets today may not always be the most obvious choices. Happy betting!
Pick: Marlins
#1

#2

last 30 days winnings
$930