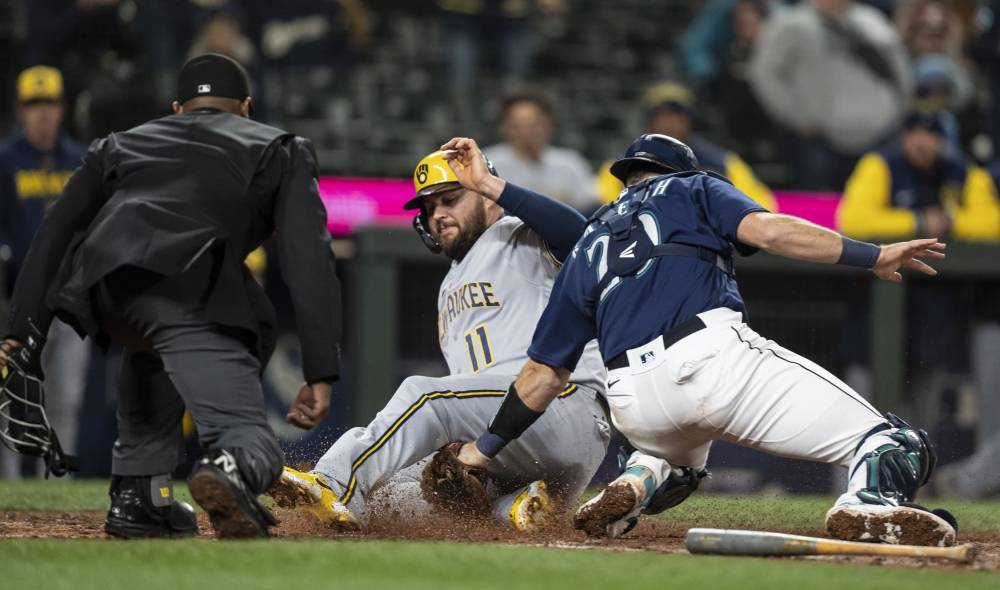 Mariners vs Brewers Prediction MLB Picks Free 4/18
Apr 18, 2023, 8:41:01 AM
© Stephen Brashear-USA TODAY Sports
Brewers vs Mariners - MLB Game Preview - April 18, 2023
The Milwaukee Brewers will take on the Seattle Mariners on April 18, 2023, at T-Mobile Park in Seattle, Washington. The Brewers currently lead the National League Central with an 11-5 record and have won six of their last ten games. The Mariners, on the other hand, have an 8-8 record and are 5-5 at home. This game promises to be a competitive matchup, and MLB picks experts and MLB picks computer predictions are already offering their thoughts on who might come out on top. Let's take a closer look at the upcoming game and what to expect from both teams.
Brewers: Pitching Analysis
The Milwaukee Brewers have been performing well so far in the 2023 MLB season with a current record of 11-5. A big part of their success has been their pitching staff. With experts and computers making MLB picks, the Brewers have found themselves as a favorite in many predictions. Looking at the team's pitching performance, the Brewers have a solid 2.94 earned run average (ERA), ranking them third in the league in that category. Colin Rea has been a standout pitcher for the Brewers, with a 0-0 record, 1.59 ERA, and 11 strikeouts in 11 innings pitched. Meanwhile, Freddy Peralta has a 3-0 record and a 1.86 ERA. In terms of run support, the Brewers average 4.81 runs per game, which ranks them 12th in the MLB. However, their defense has been stellar with only an average of 2.88 earned runs against per game. With a solid pitching staff and steady defense, the Brewers have become a popular choice for MLB picks and predictions. As the Brewers face off against the Seattle Mariners on April 18th, 2023, fans The Milwaukee Brewers have had an impressive start to the 2023 MLB season, currently sitting at 11-5 with a .688 win percentage. Their success can largely be attributed to their strong hitting performances as a team. MLB picks experts, specific MLB picks computer, and MLB picks emp have all made predictions regarding the Brewers' offensive prowess, and they have not been disappointed. In fact, the Brewers have one of the best offenses in the league, ranking in the top 12 for runs per game, total bases per game, and run differential. They are led by players such as Rowdy Tellez, who has already hit five home runs this season, and Brian Anderson, who has been a consistent producer with 14 RBIs. Their batting average as a team is .263, which ranks them seventh in the league, and they have a slugging percentage of .417, placing them at 12th in the league. The Brewers' offensive firepower has also translated to successful pick center analysis, as MLB experts' picks have often chosen them to win due to their strong hitting. Overall, the Brewers' hitting has been a key factor in their success thus far, and they will likely continue to rely on their power
Mariners: Pitching Analysis
The Mariners pitching staff has been a mixed bag this season, with some standout performances and some struggles. Experts and computer predictions have been split on their effectiveness, with some giving them high ratings and others predicting mediocrity. MLB picks experts have been hesitant to fully endorse the Mariners, with some only ranking them in the mid-tier of teams. However, MLB picks computer predictions and MLB today experts have been more positive, placing them in the upper echelon of pitchers. MLB picks and parlay predictions have been more favorable towards the Mariners as well, with many experts picking them as one of the better bets today. Their performance has been a bit up and down, but some games have seen the Mariners dominate their opponents. In terms of specific pitchers, Logan Gilbert has been a standout for the Mariners, with an impressive ERA and WHIP. However, other pitchers like Colin Rea have struggled at times, leading to a somewhat inconsistent overall performance. Overall, the Mariners pitching staff has shown flashes of potential but has yet to fully establish themselves as a dominant force in the league. As the season progresses and they gain more experience, it will be interesting to see if they can live up to the high expectations
Mariners: Hitting Analysis
The Seattle Mariners have been showing some solid hitting performances so far in the 2023 MLB season. While the team's win-loss record may not reflect this, experts and computer models predict that the Mariners will have a successful season in terms of hitting. MLB Picks experts have forecasted that the Mariners will have a much better win-loss record by the end of the season, and this can partly be attributed to the team's hitting prowess. MLB Picks computer predictions and MLB Today experts have also predicted that the team's hitting will continue to improve. The Mariners' hitting performance has been impressive, according to MLB Picks and parlay analysis. The team's batting leaders, including Rowdy Tellez and Jarred Kelenic, have been performing well and contributing to the team's run-scoring abilities. The best MLB bets today also suggest that the Mariners' hitting performance will continue to be a driving force for the team's success. With solid hitting, the team can score more runs and ultimately win games. MLB Picks with spread and MLB predictions today also back up the Mariners' strong hitting performance. The team's offense has been efficient and consistent, and this has helped them achieve their current record. Overall
Injury Report
As always, injuries can have a major impact on the outcome of a game, and both the Milwaukee Brewers and the Seattle Mariners have a few players to watch. On the Brewers' side, Adrian Houser and Brandon Woodruff are both on the 15-day injured list, while Jesse Winker is listed as day-to-day. Gus Varland is also on the 15-day injured list. For the Mariners, Marco Gonzales is listed as being on paternity leave, while Robbie Ray and Dylan Moore are both on the 15-day injured list. Andres Munoz is also on the 15-day injured list, and Sam Haggerty is listed as day-to-day. It's important to keep an eye on these injuries and any updates before making your MLB picks. Experts and computer MLB picks may take into account these factors when making their predictions, so be sure to check for the latest MLB picks and predictions before placing your bets.
Player
Team
Position
Injury Status
Adrian Houser
Milwaukee Brewers
SP
15-day IL
Brandon Woodruff
Milwaukee Brewers
SP
15-day IL
Jesse Winker
Milwaukee Brewers
LF
day-to-day
Gus Varland
Milwaukee Brewers
RP
15-day IL
Marco Gonzales
Seattle Mariners
SP</td
Prediction
As experts and computers look at the statistics and analyze the players, predictions for the upcoming Brewers vs Mariners game are in. The analytics show that Seattle has a 60.7% chance of winning the game, while Milwaukee has a 39.3% chance. However, sometimes the experts and statistics are wrong, and it's important not to always pick the favorite. Based on recent performance and the matchups between teams, the pick for this game is Milwaukee Brewers. While the Mariners have a solid pitching rotation, the Brewers have been dominant offensively, and their pitching has been impressive as well. The Brewers have a record of 11-5, and their away record is 6-4. They have performed well as underdogs, with a record of 5-4, and their current runline performance is 6-3. Meanwhile, the Mariners have an 8-8 record, and their home record is 5-5. They have struggled as favorites, with a record of 4-7. Ultimately, the Brewers' balanced performance across all aspects of the game give them an edge over the Mariners in this matchup.
Pick: Brewers ML
#1

#2