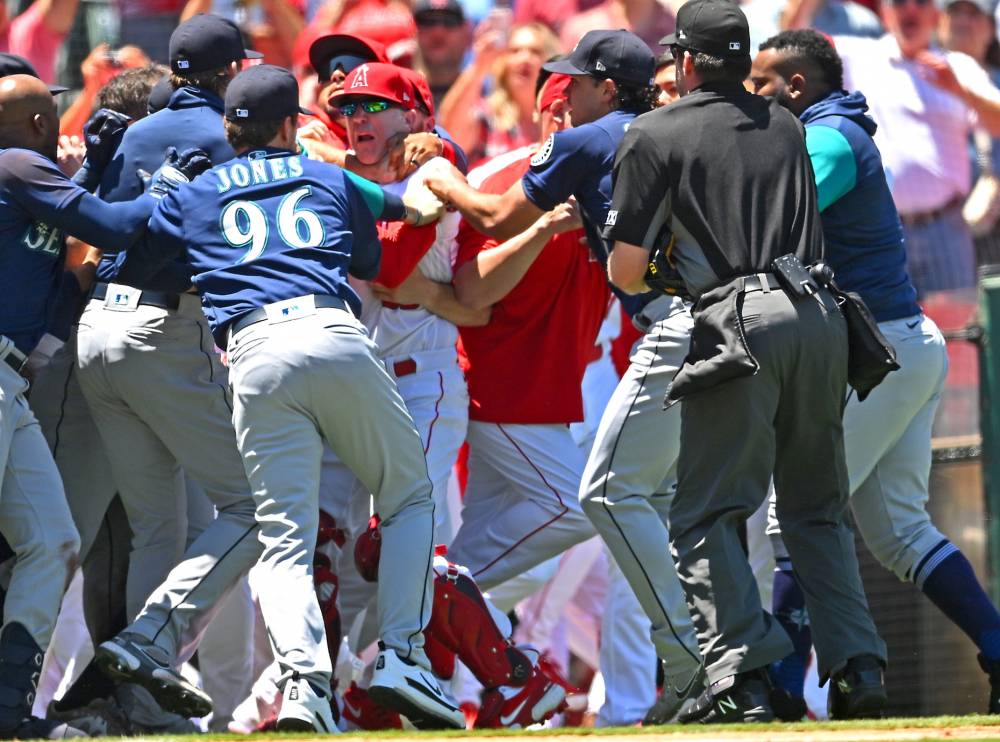 Intentionally Hitting Batters: What MLB should do. (Opinion)
Jun 29, 2022, 12:24:01 AM
This past Sunday, Archie Bradley suffered an injury that will keep him sidelined for over a month. No, it wasn't due to throwing electric sliders. In fact, he doesn't have a slider in his repertoire. He's primarily a fastball, changeup, curveball specialist.
This injury was suffered when an on-field brawl broke out between the Seattle Mariners and the Los Angeles Angels. Bradley brok his right elbow, while jumping over the dugout rail. Okay, this was more like a freak accident than a fight induced injury. Some could argue, he should have been suspended for the stupidity of the incident all together.
So, how did we get here? Why is MLB still allowing these incidences to occur? Let's break down how we got here:
In the top of the 2nd, Los Angeles Angels pitcher Andrew Wantz threw a pitch. A pitch that was clearly and intentionally at the glutes of Seattle Mariners' Left Fielder Jesse Winker. Wantz would later be suspended 3 games. Jesse Winker, seven games.
12 players would later be suspended for a period of 1 to 10 games. Manager Phil Nevin got the 10. That's like sending a kids parents to detention for their kid bullying other kids.
Fair? We all know that in common society, two wrongs don't make a right. Why are pitchers allowed to pitch inside to batters intentionally and only receive a 3 game suspension? Wait, they don't automatically get the suspension. It's only if it is deemed to be intentional. Now, I know I said early it was intentional. But, this is somewhat of a subjective matter. Pitchers only pitch every 5 days anyway. Should't there be some type of in-game penalty, that makes it extremely disadvantageous to throw intentionally at a player?
I break down possible solutions to this problem:
Hitting a batter = Home Run
Yup, you got it. You ding a player, he trots around the bases, all players on base score. This would most definitely stop the intentional hitting of batters. Okay, so we may get some players leaning over, but who in their right mind is going to lean in on a 99 MPH fastball from New York Closer Aroldis Champman?
Hitting a Batter = 1 Run
The player who gets hit, gets to take a base and 1 run is applied to the hit batsman teams score.
Hitting a Batter = 2 Bases
Hit a batter, they get a double!
Hitting a Batter = 3 Bases
Hit a batter, they get a Triple!
Hitting a Batter = 10 game suspension
If you hit a batter it's a 10 game suspension.
Penalty Box?
Hockey has penalty boxes. If you hit a batter, you are out for x amount of innings. Pitchers who come in and hit a batter in relief are automatically removed from the game.
Okay, I'm not saying I really recommend implementing any of these rules. But, something has to be done to prevent injuries during brawls. Even if it is from slipping on home plate.
#1

#2

#41