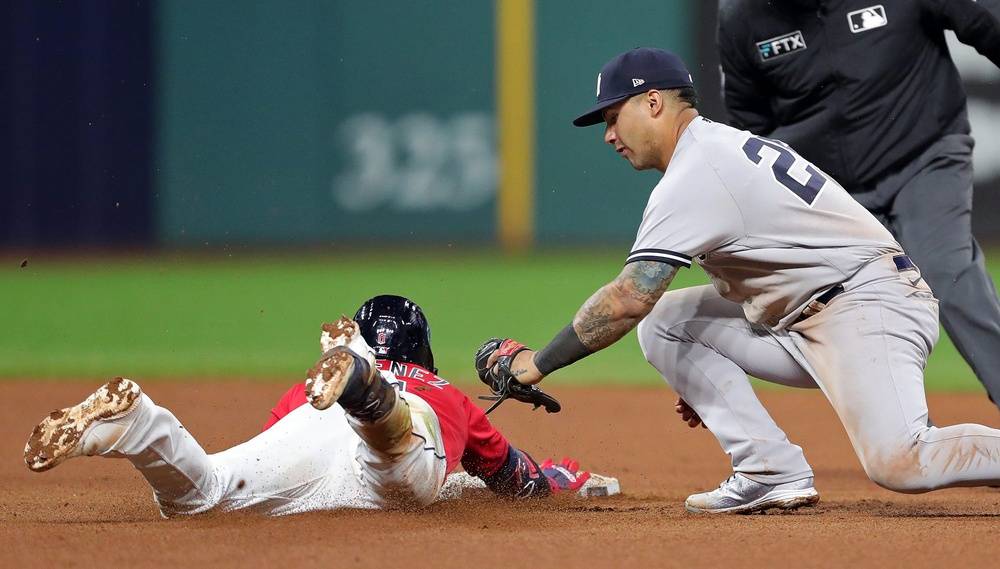 Guardians vs Yankees Prediction MLB Picks for Today 4/10
Apr 10, 2023, 7:19:42 AM
© Jeff Lange / USA TODAY NETWORK
Preview
The New York Yankees (6-3) and Cleveland Guardians (6-4) will meet at Progressive Field on April 10, 2023, for the first game of their three-game series. ESPN Analytics predicts that the Guardians have a 63.4% chance of winning against the Yankees, who have a 36.6% chance of winning.
The Yankees (2-1 away) and Guardians (1-2 home) both have solid records going into the matchup, and this game has been the topic of many discussions in the MLB world. With MLB experts making their predictions and providing their MLB picks for today, fans and bettors alike are eager to see how this game will play out.
New York Yankees
Pitching:
The Yankees' pitching has been a strong suit for the team thus far in the season. Domingo German will take the mound for the Yankees, with a 0-1 record, 7.71 ERA, and 0.86 WHIP in 4.2 innings pitched. Despite German's shaky start, the Yankees' pitching staff has an impressive overall ERA of 2.81 and a WHIP of 1.13. This is largely due to the team's strong bullpen, which has allowed only 3 runs in the last 20 innings pitched.
Batting:
The Yankees' offense is led by Aaron Judge, who has hit 4 home runs, has a .364 batting average, and has driven in 7 runs. The team ranks 10th in the league in batting average, with a .247, but has a slugging percentage of .462 and an OBP of .327.
Injury Report:
Oswald Peraza and Yoendrys Gomez are listed as day-to-day, while Trystan Vrieling and Anthony Hall are out for this game.
Cleveland Guardians
Pitching:
Shane Bieber will take the mound for the Guardians, with a 0-0 record, 2.25 ERA, and 0.83 WHIP in 12 innings pitched. The Guardians' pitching staff has an overall ERA of 3.90 and a WHIP of 1.17, which isn't as impressive as the Yankees' pitching staff. However, Bieber's dominance in his first two starts of the season provides a glimmer of hope for the Guardians' pitching staff.
Batting:
The Guardians' offense has been inconsistent, with a batting average of .245 and a slugging percentage of .355. Steven Kwan leads the team in RBIs with 8 and has a batting average of .302. However, Andres Gimenez has been the standout player so far, with a .350 batting average, .422 OBP, and .550 slugging percentage.
Injury Report:
There are no injured players on the Guardians' roster.
Final Prediction:
While both teams have their strengths and weaknesses, the Guardians have an edge in this matchup due to their dominant pitching and consistent batting. Shane Bieber has been dominant in his first two starts of the season and has the potential to shut down the Yankees' offense. Additionally, the Guardians have the home-field advantage, which could play a crucial role in the outcome of the game.
Therefore, based on MLB picks free and MLB experts' picks, we predict that the Cleveland Guardians will win this game against the New York Yankees.
Pick: Guardians ML
Don't forget to download the Kingpin.pro iOS and Android app to get access to exclusive MLB predictions and analysis from our experts.
#1

#2