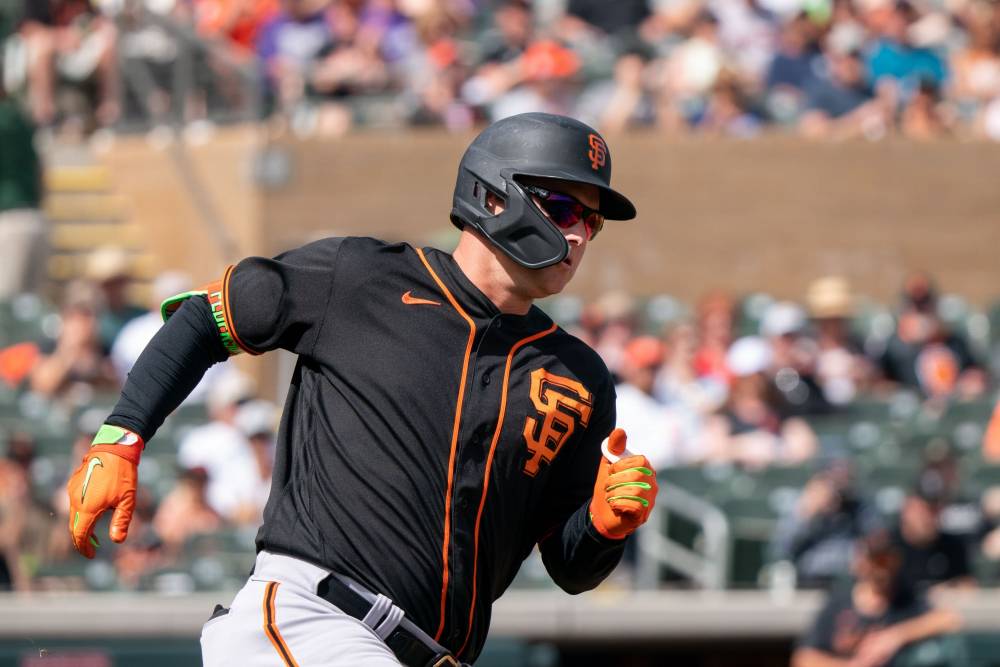 Giants vs Rangers MLB Picks and Predictions 3/22
Mar 22, 2023, 8:26:42 AM
Photo Credit: © Allan Henry-USA TODAY Sports
MLB Spring Training: Giants vs Rangers
The San Francisco Giants will host the Texas Rangers on March 22, 2023, in a Spring Training game that promises to be exciting. Both teams have had their fair share of wins and losses in the exhibition games leading up to the regular season, and they will be looking to fine-tune their game before the real action starts. In this article, we will take an in-depth look at the Giants and the Rangers, analyzing their offense, defense, and injuries, and make a prediction on which team will come out on top.
San Francisco Giants
Offense:
The Giants have had a solid offensive performance in Spring Training, scoring 121 runs and hitting 30 home runs. Outfielder Michael Conforto has been a standout player, hitting four homers and driving in six runs with a .257 batting average.
In their last game on March 21, the San Francisco Giants faced off against the Los Angeles Dodgers and came away with an impressive 12-1 victory. The Giants' offense was firing on all cylinders, scoring 12 runs on 14 hits, including four home runs. Outfielder Steven Duggar had a standout performance, hitting two home runs and driving in four runs.
On the pitching side, the Giants were equally impressive, limiting the Dodgers to just one run on five hits. Starting pitcher Logan Webb threw four scoreless innings, allowing just one hit and striking out four. The Giants' bullpen also held strong, allowing just one run in five innings of work.
Defense:
The Giants have been solid defensively, committing only 11 errors in their 22 games played. The infield defense, led by shortstop Brandon Crawford and third baseman Evan Longoria, has been particularly strong.
Injuries:
The Giants have a few players listed on their injury report, including Cole Waites, Brandon Crawford, Mitch Haniger, Austin Slater, and Joc Pederson. Waites is out, while Crawford and Pederson are day-to-day. Haniger and Slater are also out, but they are expected to return soon.
Texas Rangers
Offense:
The Texas Rangers have had a solid offensive performance during Spring Training, with a batting average of .280, 31 home runs, and 141 runs scored. Nathaniel Lowe and Corey Seager have been consistent performers for the team, with Seager leading the team in home runs and batting average. The Rangers have an advantage over the White Sox in terms of offense, as they have been more consistent and have a better overall performance.
Defense:
The Texas Rangers have had a solid defensive performance during Spring Training, with a 5.16 ERA and a WHIP of 1.40. Their pitching leaders have been consistent, with Glenn Otto leading the team in strikeouts. The Rangers have also had a decent performance in terms of fielding, with a fielding percentage of .975. Their defense is an advantage in this game, as they have been more consistent and reliable than the White Sox.
Injuries:
Glenn Otto is day-to-day for the Rangers.
Prediction
After reviewing both teams' offense, defense, and injuries, we predict that the San Francisco Giants will win this game. The Giants have been more consistent in Spring Training, with a solid offense and a reliable defense. Meanwhile, the Rangers have struggled defensively, committing 15 errors in 23 games. This inconsistency in the field could be their downfall against the Giants.
Additionally, the Rangers have struggled on the road, with a 5-7 record, while the Giants have a winning record at home. This home field advantage could give the Giants the edge they need to secure a win.
Lastly, the Giants have a more experienced roster with key players like Crawford and Longoria. They have also been able to win games despite some players being listed as day-to-day. In contrast, the Rangers have been more reliant on a few key players, and their overall depth may be tested in this game.
Pick: Giants
Are you an MLB fan looking for the best baseball picks and parlays for your next game night? Look no further than KingPin.pro, the top-rated sports betting app available on both iOS and Android. With real-time odds, public betting data, and comprehensive data analysis, you'll be able to make informed decisions when placing your wbc bets.
But that's not all. KingPin.pro also offers access to expert handicappers and their baseball picks. These handicappers are experts in their field, with a proven track record of success, making their baseball fantasy picks and baseball picks tonight reliable and valuable. Users can purchase picks from handicappers for a variety of sports, including the NBA, NFL, MLB, and more.
In addition to expert picks, KingPin.pro also allows users to place their own picks and compete for a spot in the top 10 leaderboard. This is a great opportunity to test your skills against other sports bettors and potentially earn a payout if your pick makes it to the top 10.
One of the unique features of KingPin.pro is that users can view all the picks on the site, not just those from the handicappers they choose to follow. This allows users to gain more insight into the overall trends and predictions of the community and make more informed betting decisions.
Overall, KingPin.pro is a comprehensive and user-friendly platform for sports bettors looking for the best baseball parlays and baseball picks. Whether you're a seasoned bettor or new to the game, this app offers valuable insights and expert advice to help you make informed decisions and potentially earn some money. So, download KingPin.pro today and start betting like a pro!
#1

#2