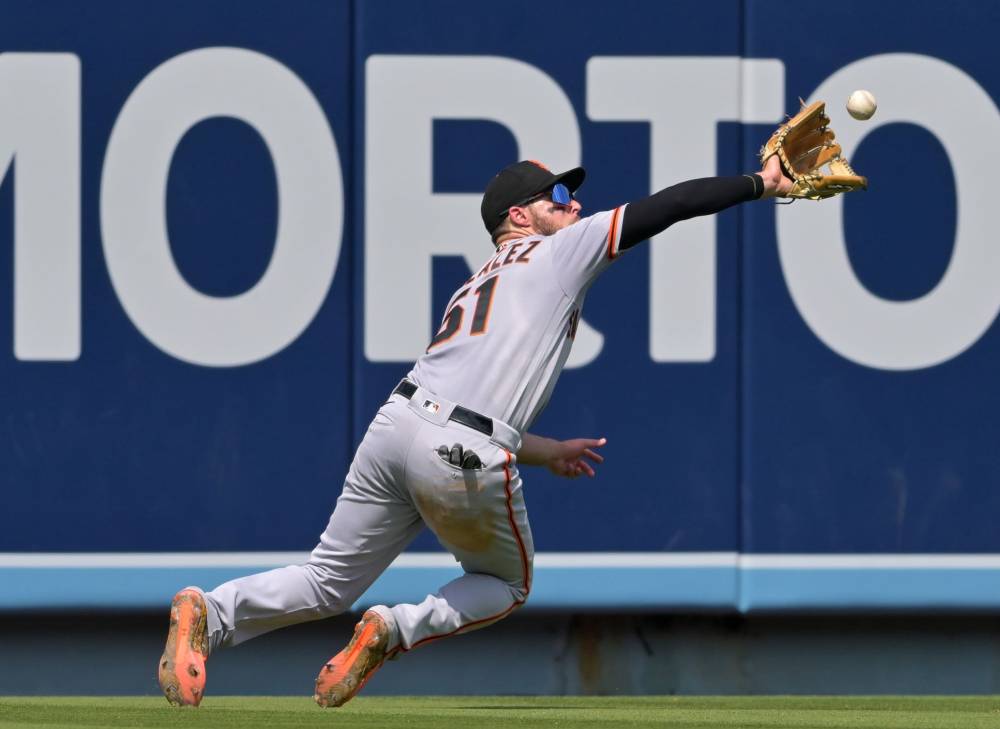 Giants vs Dodgers Prediction MLB Picks for Today 4/11
Apr 10, 2023, 11:26:40 PM
© Jayne Kamin-Oncea-USA TODAY Sports
Game Preview: Los Angeles Dodgers vs San Francisco Giants - April 11, 2023
The Los Angeles Dodgers (5-5) will face off against their division rivals, the San Francisco Giants (4-5), on April 11, 2023, at Oracle Park. As the season is still in its early stages, the outcome of this game could have a significant impact on the standings. Both teams are looking to gain an advantage, with expert MLB picks and predictions already forecasting a close game. MLB picks experts and computer algorithms are predicting the Dodgers to win, with a 50.7% chance of victory. However, MLB picks and parlay could sway in the favor of the Giants, with their recent form being better than that of the Dodgers. MLB Today experts predict that the game's outcome will be a nail-biter, with both teams expected to make the game highly entertaining. The best MLB bets today will focus on the spread and the odds. The probable pitchers for the game are Dustin May for the Dodgers and Alex Wood for the Giants. Both pitchers are highly rated, with each having the potential to decide the outcome of the game. To get the analysis and more exclusive MLB picks and predictions, you need to be a + Subscriber. Don't miss out on the action and subscribe now to receive access to expert MLB picks and insights.
Dodgers: Pitching Analysis
The Los Angeles Dodgers are a team with incredibly talented pitching staff. With names like Clayton Kershaw, Dustin May, and Julio Urias leading the rotation, the Dodger's pitching is amongst the best in the league. This is reflected in the predictions and picks from MLB experts and computers, with many experts picking the Dodgers as their favorites to win. The Dodgers' pitching is so strong that they are often favored in most games that they play. This makes them a great pick for experts and bettors looking to make the most profitable MLB picks and parlays. Additionally, the Dodgers have a strong history of producing great pitching talent within their own system, with many current players starting their careers in the Dodgers' minor league system. When it comes to predictions, the Dodgers' pitching staff is expected to perform at a very high level in the upcoming season.
Dodgers: Hitting Analysis
When it comes to predicting the outcome of the game between the Los Angeles Dodgers and San Francisco Giants, experts have turned to both their own analysis and computer-generated MLB picks to make their predictions. However, when it comes to analyzing the Dodgers' hitting performance, there are several key factors to consider. First and foremost, the Dodgers' batting average currently ranks 14th in the league, with a team average of .247. However, they have an impressive slugging percentage of .503, which ranks second in the league. Their on-base percentage of .363 also ranks fourth in the league, showcasing their ability to get on base and create scoring opportunities. When it comes to home runs, the Dodgers have hit a total of 18 in their first ten games of the season, averaging 1.8 home runs per game. This ranks them third in the league in terms of home runs per game. The team also has several standout hitters, including Jason Heyward, who leads the team with three home runs, and Freddie Freeman, who boasts an impressive batting average of .421. Additionally, the Dodgers' ability to draw walks has helped them create scoring opportunities, as they rank first in the league with an average of 5.8 walks per game. However, their strikeout rate of 9.0 per game ranks 19th in the league, indicating that there is room for improvement in that area. Overall, the Dodgers' hitting performance this season has been impressive.
Giants: Pitching Analysis
The San Francisco Giants are known for their impressive pitching staff, and this season is no different. MLB picks experts, MLB picks computer, and MLB picks and parlays all have high expectations for the Giants' pitchers in the upcoming games. Here are some predictions and analysis for the Giants' pitching staff:
Probable Pitcher: Alex Wood
Wood has started the season with a 0-0 record and a 3.00 ERA in one game. He has pitched three innings and allowed three hits and one earned run. Wood has also struck out three batters and walked none.
Giants: Hitting Analysis
The San Francisco Giants have proven to be a tough team to predict in terms of hitting performance. The Giants have a unique style of play that can be difficult to quantify. Jason Heyward and Michael Conforto, who have both shown power at the plate. However, the Giants' overall performance is characterized by a balanced attack and unpredictable contributions from different players on any given night. Best MLB bets today and MLB picks with spread may be tricky when it comes to the Giants, as their performance can vary greatly from game to game. That being said, MLB predictions today and MLB picks for today indicate that the Giants have the potential to make a strong showing this season and could surprise many with their offensive prowess. When it comes to MLB picks and parlays, the Giants may not always be the safest bet, but they certainly have the potential to provide exciting and unexpected outcomes. As the season progresses, it will be interesting to see how the Giants' hitting performance holds up and if they continue to defy expectations.
Injury Report
Both the Dodgers and Giants have been relatively healthy throughout the season so far. The Dodgers have no injured players listed on their roster, while the Giants have a few players listed as day-to-day, including third baseman Sean Roby and center fielder Hunter Bishop. However, these injuries are not expected to have a major impact on the team's performance in upcoming games. As always, it's important for both teams to continue prioritizing the health and safety of their players as the season continues.
Player
Team
Position
Injury Status
N/A
Los Angeles Dodgers
N/A
No injured players
Sean Roby
San Francisco Giants
3B
day-to-day
Hunter David Bishop
San Francisco Giants
CF
out
Seth Corry
San Francisco Giants
SP
day-to-day
Will Bednar
San Francisco Giants
SP
day-to-day
Jairo Pomares
San Francisco Giants
CF
Prediction
After analyzing both teams' performance, their current roster, and the recent trends, our experts have come up with a prediction for the game. Pick: San Francisco Giants While the Dodgers may have a slightly better overall record, the Giants have been playing well at home and have a strong batting lineup. Add to that the fact that Alex Wood has a better record than Dustin May, and San Francisco seems the likelier team to come out on top. Remember, betting is never a sure thing, and surprises can happen in any game. But based on our MLB picks experts and computer analysis, the Giants are the team to watch today. If you're looking for the best MLB bets today, we recommend considering San Francisco and parlaying it with another strong pick for maximum potential payout.
Pick: Giants ML
Upgrade to View Prediction
#1

last 30 days winnings
$43,150
Yesterday winnings
($930)
#2

last 30 days winnings
$32,570