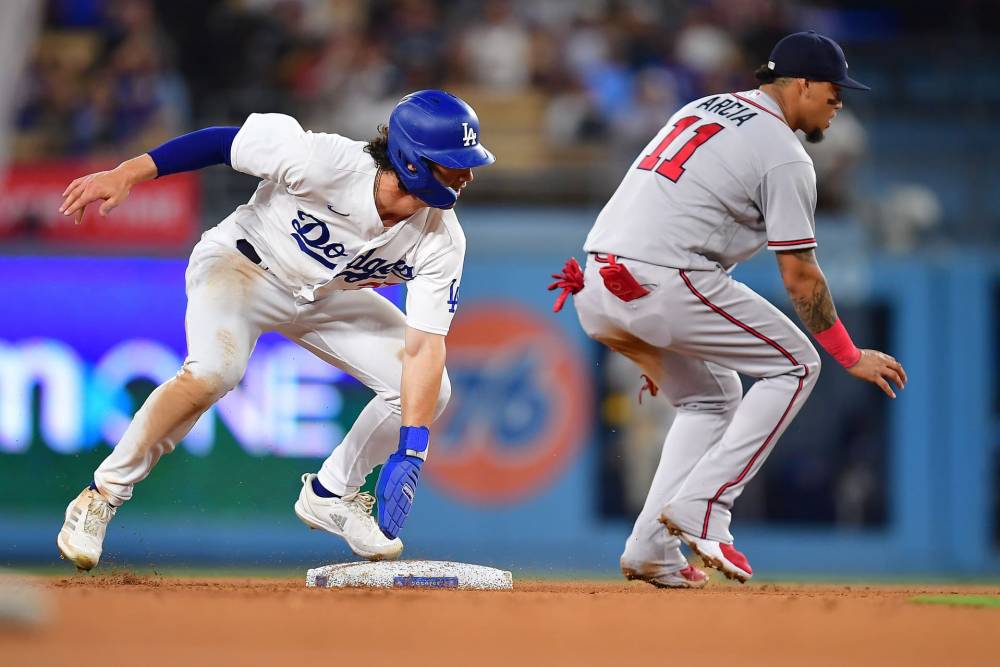 Dodgers vs Braves Prediction MLB Picks Today 9/3
Sep 3, 2023, 1:26:24 AM
© Gary A. Vasquez-USA TODAY Sports
Braves vs Dodgers: MLB Predictions, Picks, and Expert Analysis
Get ready for a thrilling MLB matchup as the Atlanta Braves take on the Los Angeles Dodgers at the iconic Dodger Stadium. This clash of titans promises to deliver a baseball spectacle that fans won't want to miss. In this comprehensive analysis, we will delve into the strengths and weaknesses of both teams and offer our best bet.
Team Analysis:
Atlanta Braves:
The Atlanta Braves have been enjoying an impressive season with a commanding record of 89-45. With both home and away victories, they've shown their mettle in various settings. Key players like Matt Olson, boasting 43 home runs and a .266 average, have been instrumental in propelling the Braves to the top of their division.
Hitting Analysis:
Matt Olson's exceptional performance with 43 home runs and 112 RBIs has positioned him as a driving force in the Braves' offensive strategy. Supported by a talented lineup, the Braves have consistently demonstrated their ability to challenge even the most formidable pitchers in the league.
Pitching Analysis:
On the mound for the Braves is Charlie Morton, a seasoned pitcher with a 14-10 record, a 3.29 ERA, and an impressive 165 strikeouts. Morton's experience and skill make him a key asset for the Braves, but a closer look reveals that he faced challenges in his recent outing against the Dodgers.
Injury Report:
While the Braves have showcased their resilience throughout the season, they are not without their share of setbacks. Players like AJ Smith-Shawver, Kyle Wright, Sam Hilliard, and Nick Anderson are currently listed on the injury report, which could impact the Braves' overall performance.
Los Angeles Dodgers:
The Los Angeles Dodgers, with a strong record of 83-51, are determined to maintain their winning momentum and secure victory on their home turf. Boasting a potent lineup and a well-rounded pitching staff, the Dodgers are poised to give their best against a formidable Braves team.
Hitting Analysis:
Mookie Betts, a standout player with 38 home runs and a .315 batting average, continues to be a driving force in the Dodgers' lineup. Supported by other top-performing players, the Dodgers have consistently delivered strong offensive performances throughout the season.
Pitching Analysis:
Taking the mound for the Dodgers is Bobby Miller, who holds an 8-3 record, a 4.00 ERA, and has tallied 79 strikeouts. While Miller's statistics suggest a degree of stability, his performance in the upcoming game will play a critical role in determining the outcome against a potent Braves offense.
Injury Report:
Similar to their opponents, the Dodgers have faced their share of injuries. Players such as Jimmy Nelson, Walker Buehler, Daniel Hudson, Joe Kelly, and J.D. Martinez are currently listed on the injury report, which may influence the Dodgers' strategy and performance.
Prediction:
Considering the analysis of both teams and the dynamics of the matchup, our prediction leans towards the Los Angeles Dodgers securing a victory in this game. A key factor contributing to this prediction is Charlie Morton's recent struggle against the Dodgers, during which he allowed 6 runs in 5 innings. The Dodgers' ability to exploit Morton's weaknesses positions them favorably for a strong offensive performance.
As sports and betting experts, we recognize the significance of past encounters in shaping future outcomes. With the Dodgers holding the upper hand in recent history, they are well-positioned to maintain their winning streak against Morton and secure victory at home.
Pick: Dodgers ML -110
Don't Miss the Action:
As fans and enthusiasts eagerly await the Braves-Dodgers matchup, excitement is building for a game that could deliver thrilling moments and unexpected twists. Whether you're a dedicated follower of one of these teams or simply a lover of the sport, this matchup is a must-watch event that embodies the essence of baseball's competitive spirit.
Stay tuned to KingPin.pro for more expert analysis, up-to-date MLB predictions, and in-depth coverage of all your favorite sports!
Upgrade to View Prediction
#1

last 30 days winnings
$1,040
#2

last 30 days winnings
$7,630