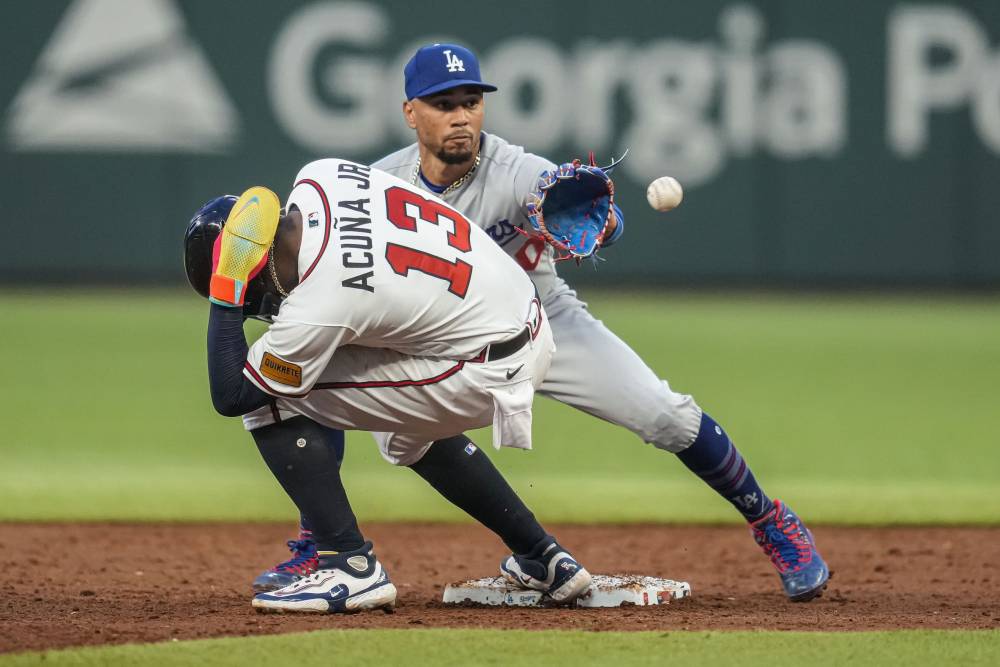 Dodgers vs Braves Prediction MLB Experts Picks 8/31
Aug 30, 2023, 8:40:53 PM
© Dale Zanine-USA TODAY Sports
Braves vs Dodgers: MLB Predictions, Picks, and Expert Analysis
Get ready for an exciting clash as the Atlanta Braves face off against the Los Angeles Dodgers at Dodger Stadium. The Braves are on a roll and have proven themselves as one of the best teams in the league, while the Dodgers are a formidable opponent known for their competitive spirit. Our team of sports and betting experts is here to provide you with a detailed analysis of the game, along with predictions that can guide your MLB bets.
Team Analysis:
Atlanta Braves:
The Atlanta Braves enter this matchup with an impressive 86-45 record and the reputation of having the best offense in the league. With a lineup led by the likes of Matt Olson and Ronald Acuna Jr., the Braves have consistently produced runs and put pressure on opposing pitchers.
Hitting Analysis:
Matt Olson's 43 home runs and 112 RBIs showcase his power and ability to drive in runs. Coupled with Ronald Acuna Jr.'s .335 batting average and .570 slugging percentage, the Braves' offense is a force to be reckoned with. Their ability to capitalize on scoring opportunities and produce runs gives them a significant advantage.
Pitching Analysis:
Spencer Strider is set to take the mound for the Braves, and his exceptional 15-4 record, 3.46 ERA, and 236 strikeouts make him a reliable and dominant pitcher. Strider's ability to keep hitters off balance and generate strikeouts could stifle the Dodgers' offense and keep the game under control.
Los Angeles Dodgers:
The Los Angeles Dodgers, with an 82-49 record, have established themselves as a top contender in the league. While the Braves have a potent offense, the Dodgers' pitching and hitting prowess make them a challenging opponent for any team.
Hitting Analysis:
The Dodgers are led by Mookie Betts and Freddie Freeman, both of whom have been consistent contributors to the team's offense. Betts's 36 home runs and .314 batting average, coupled with Freeman's .337 batting average and .579 slugging percentage, make the Dodgers' lineup a well-rounded and dangerous force.
Pitching Analysis:
Julio Urias will take the mound for the Dodgers. While his 11-7 record and 4.41 ERA suggest some challenges, his ability to generate strikeouts and keep hitters guessing could provide the Dodgers with the necessary pitching support to counter the Braves' offense.
Prediction:
In this highly anticipated matchup, we predict that the Atlanta Braves will come out on top against the tough Los Angeles Dodgers. Despite the Dodgers' strong record and reputation, the Braves' explosive offense, led by Olson and Acuna Jr., gives them a significant edge. Spencer Strider has allowed only 1 run in his last 21 innings pitched while Urias has allowed 10 runs in his last 20 innings pitched.
As experts in sports and betting, we believe that the Braves' ability to score runs consistently and capitalize on scoring opportunities will be the deciding factor in this game. While the Dodgers are a formidable opponent, the Braves' best offense in the league is poised to secure a victory against them.
Stay tuned for more expert analysis, MLB predictions, and valuable insights from KingPin.pro.
Pick: Braves ML
Upgrade to View Prediction
#1

last 30 days winnings
$1,040
#2

last 30 days winnings
$5,870
Yesterday winnings
($1,360)