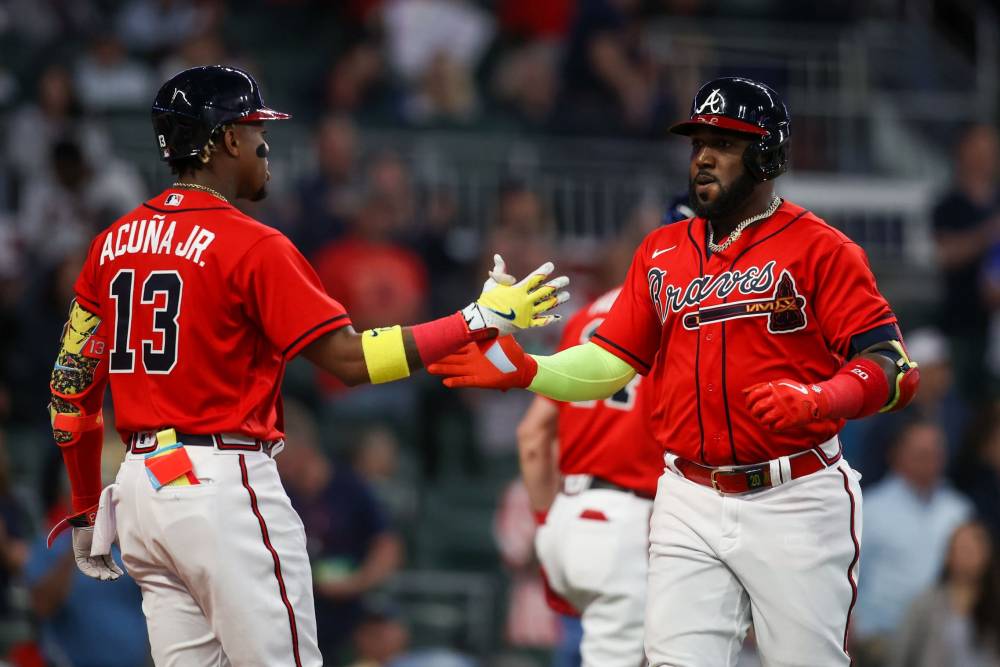 Braves vs Reds Prediction MLB Picks Free 4/11
Apr 10, 2023, 8:24:52 PM
© Brett Davis-USA TODAY Sports
MLB Game Preview: Cincinnati Reds vs Atlanta Braves
On April 11, 2023, the Cincinnati Reds will take on the Atlanta Braves in an exciting MLB matchup. The Reds come into the game with a record of 4-4, while the Braves are 6-4. Both teams will be looking to secure a win and move up in their respective divisions. MLB Picks experts, computer models, and predictions all point to the Braves holding a significant advantage in this matchup, with a projected win percentage of 66.9%. However, the Reds have been known to pull off impressive upsets, so this could be anyone's game. The game will take place at Truist Park in Atlanta, with a gametime weather prediction of 68 degrees. The game will also be broadcast live for fans to watch. With both teams having talented rosters and a lot on the line, this matchup is sure to be an exciting one. Stay tuned for a full-length prediction article to get a closer look at each team's strengths and weaknesses and see who is most likely to come out on top.
Reds: Pitching Analysis
The Cincinnati Reds have had an up-and-down start to the 2023 MLB season, sitting with a 4-4 record and splitting their first two series. The team's success largely hinges on their pitching staff, which has shown both promising signs and concerning issues. Starting pitcher Luis Cessa has been the most consistent arm for the Reds thus far, posting a 3.38 ERA and 1.31 WHIP across his first two starts. However, the rest of the rotation has struggled to find their footing, with Connor Overton and Reiver Sanmartin sporting ERAs over 5.00. The bullpen has fared slightly better, with closer Derek Law recording a save in his lone opportunity and Buck Farmer not allowing a run in his three appearances. But the relief corps as a whole has been average at best, walking too many batters and struggling to keep runners off base. When it comes to predicting the Reds' fortunes moving forward, MLB experts and computer MLB picks and predictions may see inconsistency in their future. However, with some adjustments and improvements, the Reds pitching staff could be a key factor in their success this season.
Reds: Hitting Analysis
The Cincinnati Reds have had a mixed start to the 2023 MLB season, with a current record of 4-4. However, their hitting performance has been a bright spot for the team. The Reds offense ranks 19th in runs scored per game with an average of 4.38, but they have a slugging percentage of .432 which is 9th in the league. They also have 13 home runs, which is the 8th most in the league. Jason Vosler has been the standout player for the Reds at the plate, leading the team with 3 home runs and 9 RBIs while batting .250. Tyler Stephenson has also been impressive with a batting average of .367 and an on-base percentage of .424. The Reds will face the Atlanta Braves on April 11, 2023, and it will be interesting to see how their hitting performance translates against the Braves' defense. The Braves defense has been solid so far this season, ranking 8th in slugging percentage against and 17th in earned run average. Overall, based on the current form of both teams, MLB picks experts suggest that the Braves are favored to win the game with a probability of 66.9% according to computer MLB picks and predictions.
Braves: Pitching Analysis
When it comes to the pitching matchup between the Cincinnati Reds and the Atlanta Braves on April 11, 2023, MLB picks experts are split. Some MLB picks computer models predict a Braves win with a 66.9% probability, while others have placed their MLB picks and parlays with the Reds, who have a 33.1% chance of winning. MLB experts picks today are also divided, with some leaning towards the Braves as the best MLB bets today, while others believe the Reds have the edge. Looking at the probable pitchers, Luis Cessa will take the mound for the Reds. Cessa has not yet secured a win so far this season, with a 3.38 ERA and a 1.31 WHIP. On the other hand, the Braves will start Kyle Wright, who has yet to make an appearance in the 2023 season.
Braves: Hitting Analysis
As the Braves prepare to take on the Reds in their upcoming game, MLB picks experts are eagerly anticipating what the team's hitters will bring to the plate. Predictions from both computer models and MLB today experts suggest that the Braves have a significant advantage over the Reds, with a 66.9% chance of winning according to analytics. Looking at the Braves' batting leaders, Jason Vosler leads the team with 3 home runs and a .250 batting average, while Matt Olson follows closely behind with 3 home runs and a .350 batting average. Tyler Stephenson leads the Reds with a .367 batting average. In terms of offensive value, the Braves rank ninth in slugging percentage and 13th in total bases per game, while the Reds lag behind at 17th and 18th, respectively. However, the Reds do have a slightly better batting average and on-base percentage. With a capacity crowd of 41,149 at Truist Park, the Braves' hitters will have the home-field advantage to further bolster their chances of coming out on top. Based on the MLB picks and parlay predictions, as well as their overall offensive statistics, it's clear that the Braves have a strong chance of clinching this game.
Injury Report:
Both the Cincinnati Reds and Atlanta Braves have some players dealing with injuries heading into their matchup on April 11th. For the Reds, relief pitchers Lucas Sims and Luke Weaver are on the 15-day IL, while shortstop Elly De La Cruz and third baseman Christian Encarnacion-Strand are day-to-day. The Braves have a longer list on the IL, including starting pitcher Kyle Wright (15-day), outfielder Michael Harris II (10-day), catcher Travis d'Arnaud (7-day), and relief pitchers Collin McHugh and Max Fried (both 15-day).
| Player | Team | Position | Injury Status |
| --- | --- | --- | --- |
| Lucas Sims | Cincinnati Reds | RP | 15-day IL |
| Luke Weaver | Cincinnati Reds | RP | 15-day IL |
| Elly De La Cruz | Cincinnati Reds | SS | day-to-day |
| Christian Encarnacion-Strand | Cincinnati Reds | 3B | day-to-day |
| Kyle Wright | Atlanta Braves | SP | 15-day |
Prediction:
There are several factors that suggest that the over of 9 runs is the best bet on this game. Firstly, both teams have shown offensive prowess so far this season, with the Braves averaging 4.6 runs per game and the Reds averaging 4.4 runs per game. Furthermore, both teams have several players who have been performing well offensively, such as Jason Vosler and Matt Olson for the Braves, and Tyler Stephenson and Jason Vosler for the Reds.
Secondly, the starting pitchers for this game have not been particularly dominant so far this season. Luis Cessa, the starting pitcher for the Reds, has an ERA of 3.38 and a WHIP of 1.31, while Kyle Wright, the starting pitcher for the Braves, has not yet made an appearance this season.
Finally, the game is being played at Truist Park, which has been known to be a hitter-friendly park, with a home run park factor of 110 (above the MLB average of 100). Therefore, it is likely that the teams will be able to score runs more easily than they would in a less hitter-friendly park.
All of these factors suggest that the over of 9 runs is a good bet for this game. However, it is important to note that there is always some degree of uncertainty in sports betting, and there is no guarantee that any particular bet will be successful.
Pick: Over 9 runs
#1

#2