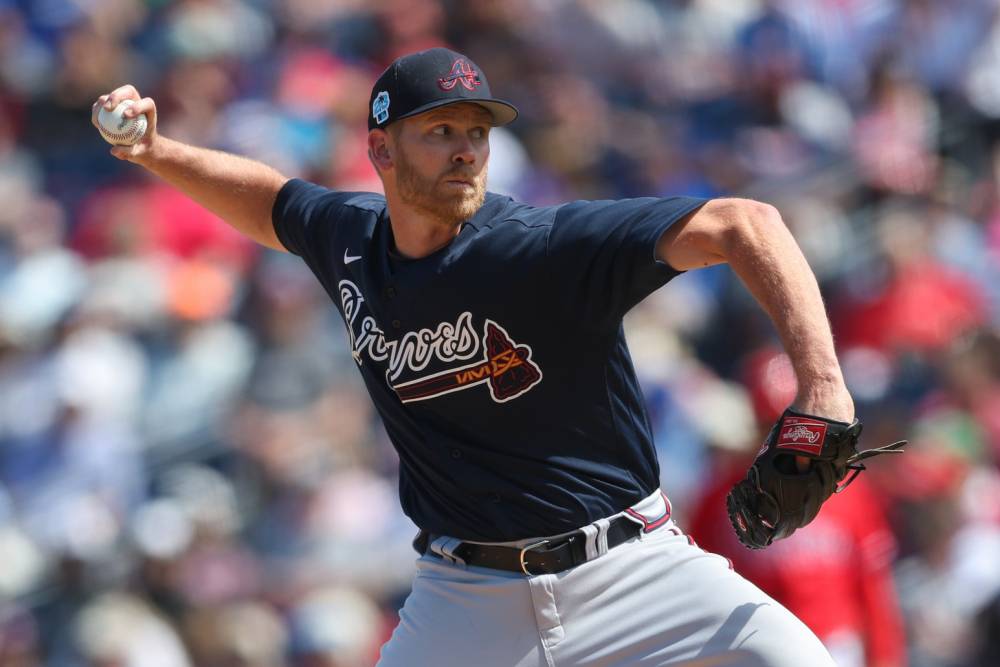 Braves vs Rays Prediction MLB Picks for today 3/16
Mar 15, 2023, 11:03:28 PM
Photo Credit © Nathan Ray Seebeck-USA TODAY Sports
The Atlanta Braves and the Tampa Bay Rays are set to face each other in an exciting MLB match at Tropicana Field. In this comprehensive analysis, we will delve into both teams' hitting and pitching strengths and weaknesses, discuss their injuries, and make a prediction on who will come out on top. Remember to download the Kingpin.pro app on iOS and Android for more sports predictions.
Atlanta Braves
Hitting The Atlanta Braves have shown consistent performance in their hitting department, with a .264 average, 98 runs, 154 hits, and 19 home runs. Their on-base percentage (OBP) stands at .347 and their slugging percentage (SLG) at .437. Key players in their lineup include Matt Olson with 3 home runs, a .476 average, and 8 RBIs, and Ehire Adrianza with 10 RBIs, 1 home run, and a .381 average. Additionally, Brandon Parker has an impressive 1.000 average, 1.000 OBP, and 1.000 SLG, making him a significant contributor to the Braves' offense.
Pitching The Braves' pitching has room for improvement, with an earned run average (ERA) of 5.58, a WHIP of 1.37, 56 walks, and 159 strikeouts. Their opponents' batting average (OBA) is .255. The team needs to focus on enhancing their pitching strategies, including better control and command from their starting pitchers and bullpen.
Tampa Bay Rays
Hitting The Tampa Bay Rays have been on a roll with a .249 average, 112 runs, 142 hits, and 28 home runs. Their OBP stands at .350 and their SLG at .445. Standout players include Luke Raley with 3 home runs, a .240 average, and 11 RBIs, and Yandy Diaz with a .571 average, .700 OBP, and 1.143 SLG. The Rays have showcased their ability to generate power throughout their lineup, making them a dangerous offensive team.
Pitching The Rays' pitching has been solid, boasting a 3.91 ERA, a 1.20 WHIP, 57 walks, and 168 strikeouts. Their opponents' batting average (OBA) is .220. The team has a strong rotation and an even stronger bullpen, with the ability to shut down opposing offenses late in the game. This pitching depth gives the Rays an edge in close matches and will be crucial in their upcoming match against the Braves.
Injuries
Atlanta Braves have Kyle Wright (SP) out since March 11 and Mike Soroka (SP) listed as day-to-day since March 15. Tampa Bay Rays have Colby White (RP) out since March 13, Jaime Schultz (RP) and Taylor Walls (SS) listed as day-to-day since March 15, Andrew Kittredge (RP) on the 60-day IL since March 15, and Johan Lopez (SS) serving a suspension since March 15.
Recent Performances
The Braves have won 4 of their last 5 matches, with victories against the Phillies, Orioles, Pirates, and Rays, and a loss to the Tigers. The Rays, on the other hand, have won 4 of their last 5 matches as well, securing wins against the Twins, Tigers, Mets, and Marlins, and suffering a loss to the Braves. Both teams are entering this matchup with momentum from recent victories, making it an exciting and competitive game to watch.
Home and Away Records
The Braves have an 8-8 overall record, with a 5-4 record in away games. The Rays have a 9-8 overall record, with a 5-3 record in home games. Playing at Tropicana Field could give the Rays a slight advantage, as they have performed better at home compared to the Braves' away record.
Key Matchups
In this upcoming match, several key matchups will play a significant role in determining the outcome. For the Braves, their hitters will need to step up against the Rays' solid pitching, with players like Matt Olson, Ehire Adrianza, and Brandon Parker needing to continue their offensive prowess. The Braves' pitching staff must also find ways to contain the Rays' powerful lineup, focusing on limiting damage from hitters like Luke Raley and Yandy Diaz.
On the other hand, the Rays will need to capitalize on their home-field advantage and strong pitching depth. Their hitters must maintain their power production and exploit any weaknesses in the Braves' pitching. The Rays' bullpen will be critical in shutting down the Braves' offense late in the game, ensuring a victory for the team.
Prediction
While both teams have impressive hitting and solid pitching, the Tampa Bay Rays seem to have a slight edge in this matchup, especially considering their home-field advantage and recent performance. The Braves will need to focus on improving their pitching and capitalize on any opportunities presented by the Rays' pitching staff to increase their chances of winning.
Pick: Tampa Bay Rays
In conclusion, this upcoming match between the Atlanta Braves and the Tampa Bay Rays is expected to be an exciting and closely contested game. Both teams showcase their strengths in hitting and pitching, but the Rays have a slight advantage with their home-field record and recent performance. Make sure to follow the action and get the latest predictions and insights by downloading the Kingpin.pro app on iOS and Android.
#1

#2