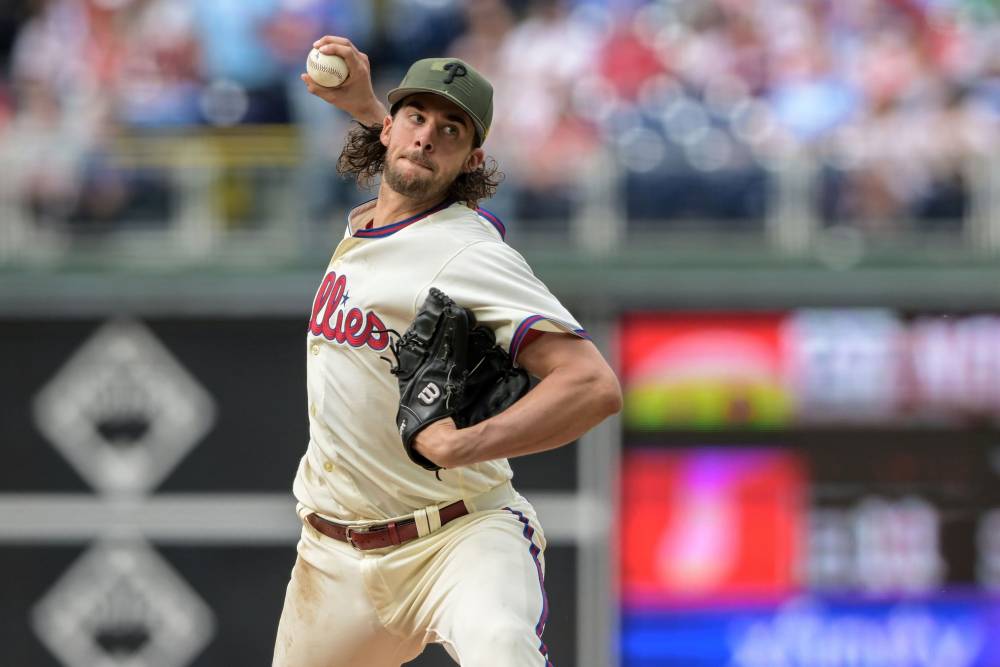 Braves vs Phillies Prediction MLB Experts Picks 5/25
May 25, 2023, 7:43:00 AM
© John Geliebter-USA TODAY Sports
Introduction:
As the Philadelphia Phillies face off against the Atlanta Braves, baseball enthusiasts and bettors are eager to witness this thrilling matchup. In this article, we will provide an extensive review of both teams, analyzing their pitching and hitting performances, as well as assessing the impact of injuries on each side. Additionally, we'll introduce the KingPin.pro iOS and Android app, where you can access expert MLB predictions and free MLB picks for this game and more.
Philadelphia Phillies:
The Philadelphia Phillies currently hold a record of 23-26 and are looking to improve their standing. Their hitting prowess, combined with solid pitching, makes them a formidable force in the National League East. Let's delve into the key aspects of their game.
Pitching Analysis:
The Phillies' pitching rotation is headlined by Aaron Nola, a skilled right-handed pitcher with a record of 4-3 and an ERA of 4.31. Nola's ability to mix his pitches and keep hitters off balance makes him a tough opponent. Despite a few rough outings, he has shown flashes of brilliance and has the potential to dominate on the mound.
Hitting Analysis:
Offensively, the Phillies boast a talented lineup, led by players like Kyle Schwarber and Matt Olson. Schwarber, with 12 home runs, brings power to the plate, while Olson contributes both power and consistency. Bryson Stott has also been a standout performer with a batting average of .291. The Phillies' ability to produce runs and drive in key hits makes them a formidable offensive threat.
Injury Report:
The Phillies have been relatively fortunate with injuries, with only Darick Hall and Jose Alvarado currently on the sidelines. While these injuries may impact depth, the team still possesses the necessary firepower to compete against the Braves.
Atlanta Braves:
The Atlanta Braves, with a record of 30-19, currently lead the National League East and are determined to maintain their position. Let's examine their strengths and weaknesses.
Pitching Analysis:
The Braves' pitching staff has been impressive this season, but they are currently facing challenges due to injuries. Dylan Dodd, with a record of 2-1 and an ERA of 6.46, will take the mound against the Phillies. While Dodd has shown potential, his performance has been inconsistent. The Braves' bullpen, however, remains a strong point and can provide support if needed.
Hitting Analysis:
The Braves' lineup features Ronald Acuna Jr., a formidable hitter who boasts impressive statistics with a .330 batting average, .419 OBP, and .576 SLG. Matt Olson, with 14 home runs and 36 RBIs, adds power and run production to the lineup. The Braves' hitting prowess can put pressure on opposing pitchers and create scoring opportunities.
Injury Report:
The Braves have suffered recent setbacks with Max Fried and JR Ritchie on the injured list. These injuries have impacted their pitching rotation and could potentially give the Phillies an advantage in this matchup.
Prediction
Considering the injuries to the Braves' pitching rotation and the Phillies' strong hitting lineup, our prediction leans towards the Philadelphia Phillies securing a victory in this game. The Phillies' ability to capitalize on the Braves' pitching challenges and their consistent offensive production give them an edge in this matchup. In addition, Nola has been a reliable force on the mound, displaying exceptional form in his last two starts. Notably, he has not allowed a single run during this span, showcasing his dominance and ability to stifle opposing lineups. His past success against the Braves adds another layer of confidence to the Phillies' chances of securing a win in this matchup.
Pick: Phillies ML -110
Upgrade to View Prediction
#1

#2

last 30 days winnings
$930
#5

last 30 days winnings
$930