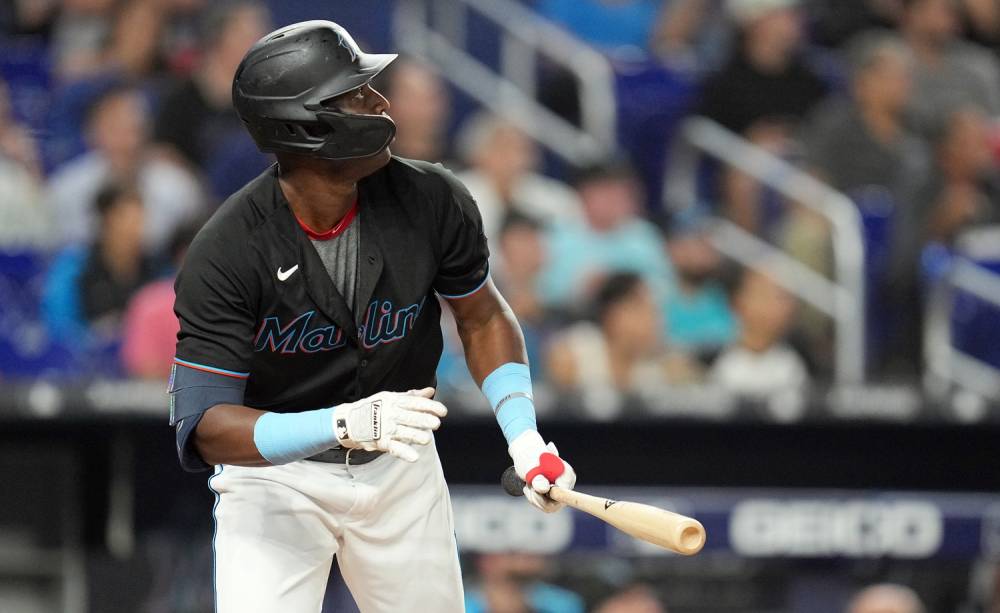 Braves vs Marlins Prediction MLB Picks for Today 4/24
Apr 24, 2023, 7:36:04 AM
© Jim Rassol-USA TODAY Sports
Marlins vs Braves (Apr 24, 2023) Pregame:
The Miami Marlins and Atlanta Braves are set to face each other on April 24, 2023, in what should be an exciting game. Both teams have had a solid start to their season, and fans are eagerly anticipating this matchup. MLB picks experts and computer predictions indicate the Braves have a clear advantage in this game. According to analytics, the Braves are favored with a 77.5% chance of winning, while the Marlins have a 22.5% chance. Furthermore, MLB expert picks today suggest that the Braves will come out on top in this matchup. As for the Marlins, they will need to pull off a strong performance and use their strengths to overcome the Braves. MLB picks with spread indicate that the Braves should win by a margin of at least one run, as their odds are favorable against the Marlins. However, with the unpredictability of baseball, anything can happen in this game. Fans and analysts alike will be keeping a close eye on this matchup as the Marlins and Braves go head-to-head. It's sure to be a thrilling game, and one that will be closely watched by baseball enthusiasts across the nation.
Marlins: Pitching Analysis
The Miami Marlins have had a mixed start to their 2023 MLB season with a record of 12-9, including a 5-3 record away from home. Their pitching staff has been a big reason for their success so far, with a solid ERA of 3.90 that ranks 11th in the league. The Marlins will send Edward Cabrera to the mound for Monday's game against the Atlanta Braves. Cabrera has struggled early in the season with an 0-1 record and an ERA of 14.08, but the Marlins are hopeful that he can turn things around against the Braves. Spencer Strider will start for the Braves and boasts a 2-0 record with an ERA of 2.45. MLB picks experts and computer MLB picks have the Braves as heavy favorites in this game, with a projected win probability of 77.5%. However, the Marlins have been known to surprise and could potentially pull off an upset. In terms of betting, the consensus pick for the moneyline and run line is unavailable, but there are plenty of MLB picks and parlay options for those looking to place a bet on this game. The Marlins have been performing well against the spread with a 9-12 record, while the Braves have struggled with a 4-5 record. Overall, the pitching analysis for the Marlins shows that they have a solid staff that gives them a chance to win games, even against tough opponents like the Braves. While they may be facing a difficult task in Monday's game, the Marlins have the potential to come out on top if their pitchers can perform up to their capabilities.
Marlins: Hitting Analysis
When it comes to the Marlins' hitting, MLB picks experts are making their predictions based on a combination of computer-generated MLB picks and analyses from MLB today experts. The Marlins have been inconsistent so far this season, but they have several standout players who can make a difference. Jorge Soler has been a beast at the plate, leading the team with five home runs. He's batting .235 and has driven in 10 runs. Matt Olson, the first baseman for the Braves, is also a force to be reckoned with. He has six home runs and 20 RBIs, with a batting average of .265. Luis Arraez, the Marlins' second baseman, has been hot with a batting average of .444, an on-base percentage of .506, and a slugging percentage of .583. Meanwhile, Ronald Acuna Jr., the Braves' right fielder, is batting .375 with an OBP of .450 and an SLG of .557. The Marlins' offense has struggled to score runs this season, averaging just 3.24 runs per game. However, they have shown some promise with their 12.81 total bases per game, ranking them 21st in the league. Moreover, Garrett Cooper has been solid at first base, driving in 11 runs with a .310 batting average and three home runs. Overall, the Marlins' hitting analysis is mixed, with some disappointing performances mixed in with some bright spots. To capitalize on their strengths and overcome their weaknesses, the Marlins will need to be strategic and use parlay MLB picks and spread MLB predictions to their advantage. Meanwhile, the Braves will rely on their power hitters and strong overall offense to dominate the Marlins in their upcoming game on April 24, 2023.
Braves Pitching Analysis:
When it comes to the pitching matchup for tonight's game between the Miami Marlins and the Atlanta Braves, both teams will be putting out their respective right-handed pitchers. The Miami Marlins will be giving the starting nod to their young gun, Edward Cabrera. Cabrera, who's seen limited action in the majors, is looking to build on his previous successes and deliver a strong performance against one of the best teams in the league. On the other side of the coin, Spencer Strider will take the mound for the Atlanta Braves. Strider, another young prospect, is looking to continue his dominant start to the season and give his team a chance to continue their winning ways. The experts and computer models are split in terms of their predictions for tonight's game. Some MLB picks experts believe that the Braves will come out on top, while others believe that the Marlins will upset their NL East rivals. Several MLB picks and parlays include tonight's matchup, with each pick seemingly favoring a different team. The MLB experts' picks today may be indicative of a high level of uncertainty surrounding tonight's game. When it comes to the best MLB bets today, the odds seem to slightly favor the Braves. While the Marlins are a storied franchise, they are currently in a rebuilding phase and have struggled to string together consistent wins. With a better record and a more talented roster, the Braves are seen as the safer pick.
Braves: Hitting Analysis
For the upcoming game between the Miami Marlins (12-9) and the Atlanta Braves (14-7) on April 24, 2023, experts from both MLB picks computer and MLB picks experts are predicting a win for the Braves. The current odds for the game also favor the home team, with a 77.5% chance of winning. Looking at the Braves' offense, Matt Olson leads the team with six home runs and 20 RBIs, while Ronald Acuna Jr. boasts an impressive .375 batting average and .557 slugging percentage. On the other hand, Jorge Soler is the Marlins' home run leader with five long balls and 10 RBIs, and Luis Arraez has a phenomenal batting average of .444. In terms of overall hitting statistics, the Braves have the edge with a team batting average of .259 and a slugging percentage of .436, compared to the Marlins' .251 batting average and .388 slugging percentage. However, the Marlins are not far behind in terms of runs scored per game, with 3.24 runs/game compared to the Braves' 4.19 runs/game. Based on these statistics, it seems likely that the Braves will come out on top in terms of hitting.
Injury Report
As the Miami Marlins and the Atlanta Braves get ready to face off on April 24, 2023, both teams have some injury concerns to deal with. For the Marlins, second baseman Cody Morissette is day-to-day, while pitcher Tommy Nance is on the 60-day IL. Additionally, Enmanuel DeJesus and Franklin Sanchez are also listed as day-to-day. On the Braves side, catcher Travis d'Arnaud is on the 7-day IL, and pitchers Collin McHugh and Raisel Iglesias are on the 15-day IL. Outfielder Michael Harris II is also on the 10-day IL. These injuries could impact each team's MLB picks and predictions for the game, as well as future games in the season. Experts and computer models will need to take into account the impact of these injuries on the players' performance and the team's overall strategy. As always, staying up-to-date on the latest injury report is crucial for making informed MLB picks and bets.
| Player | Team | Position | Injury Status |
| --- | --- | --- | --- |
| Cody Morissette | Miami Marlins | 2B | day-to-day |
| Enmanuel DeJesus | Miami Marlins | SP | day-to-day |
| Tommy Nance | Miami Marlins | RP | 60-day IL |
| Franklin Sanchez | Miami Marlins | RP | day-to-day |
| Victor Mesa | Miami Marlins | CF | day-to-day |
| Travis d'Arnaud | Atlanta Braves | C | 7-day IL |
| Collin McHugh | Atlanta Braves | RP | 15-day IL |
| Raisel Iglesias | Atlanta Braves | RP | 15-day IL |
| Michael Harris II | Atlanta Braves | CF | 10-day IL |
Prediction
As we approach the Marlins vs. Braves game on April 24, 2023, MLB experts and computer algorithms have made their predictions. The consensus seems to be heavily in favor of the Braves, with a predicted win percentage of 77.5% compared to the Marlins' 22.5%. However, it's worth noting that upsets happen all the time in sports, and the Marlins could potentially pull off a surprise victory. When it comes to making MLB picks, it's important to consider factors such as current team form, injuries, pitching matchups, and more. As such, we can't always rely on the favorite team to come out on top. With that in mind, our pick for the Marlins vs. Braves game on April 24, 2023, is the Marlins. Despite being the underdogs, they could potentially surprise the Braves and come out with a win.
Pick: Marlins +1.5
Upgrade to View Prediction
#1

#2