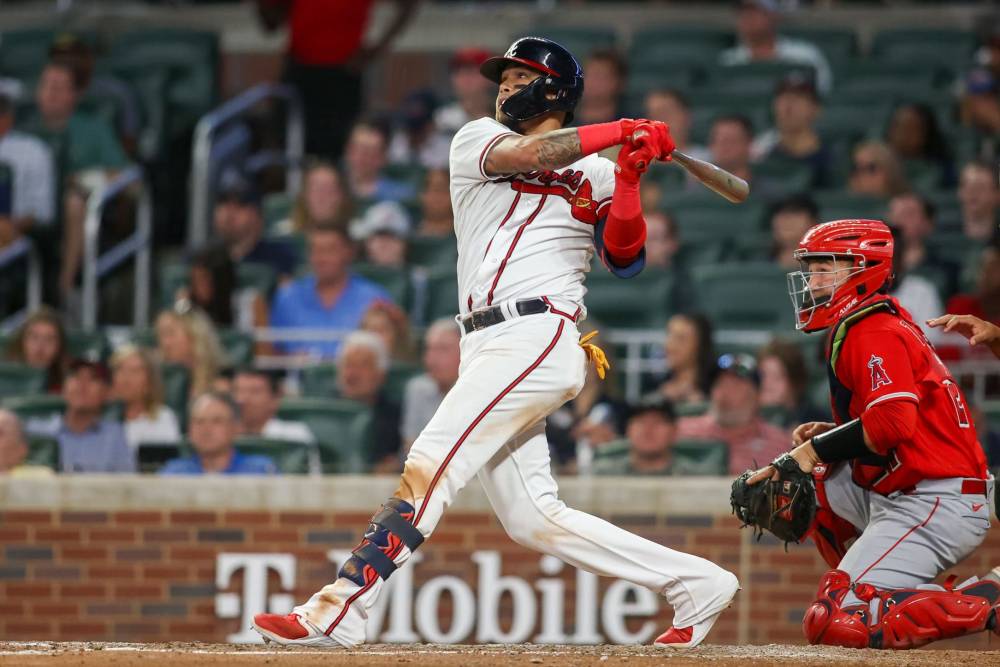 Braves vs Angels Prediction MLB Picks Free 8/2
Aug 2, 2023, 4:56:10 AM
© Brett Davis-USA TODAY Sports
In-depth MLB Preview: Los Angeles Angels vs Atlanta Braves
Once again, the adrenaline-filled realm of Major League Baseball (MLB) presents an exciting match-up that has caught our eye. The Los Angeles Angels will face off against the Atlanta Braves at the latter's home ground, Truist Park. If you want to join the KingPin.pro community and receive more of today's MLB picks, you can do so by downloading our iOS and Android app.
Dissecting the Los Angeles Angels: Performance, Strategy, and Form
Looking at Pitching
The Angels have confirmed Lucas Giolito as their starting pitcher for this match-up. While his win-loss record (6-7) might seem less than stellar and his ERA of 3.85 suggests he's had some tough games, it's essential to remember that Giolito has been quite the workhorse for the Angels. He's clocked in 126.1 innings and has racked up an impressive 136 strikeouts in the process, indicating his ability to make key plays when it matters.
Assessing Offensive Capabilities
Offensively, the Angels pack a serious punch thanks to the remarkable performance of Shohei Ohtani. A phenomenon in his own right, Ohtani has been having a season for the ages with 39 home runs, a batting average of .304, and 81 RBIs. These numbers not only point to his individual brilliance but also signify the threat he poses to the Braves' defense. The Braves will have to strategize meticulously to contain Ohtani's offensive onslaught.
A Glance at the Injury Report
The Angels have had their fair share of injuries to some key players this season. Standout performers such as Mike Trout and Jo Adell have spent time on the Injured List, which has affected the team's consistency. However, one aspect of the Angels' performance this season that warrants appreciation is their resilience. Despite injuries, the team has showcased an admirable ability to adapt, remaining competitive against tough opposition.
Digging into the Atlanta Braves: Performance, Strategy, and Form
Scrutinizing the Pitching Side
On the mound for the Braves, Yonny Chirinos will be taking on the pitching responsibilities. His season so far has been a mixed bag, with a 4-4 win-loss record and an ERA of 4.34. These stats suggest Chirinos has had a fair share of struggles and successes. However, every game is a new opportunity, and Chirinos will undoubtedly look to make an impact against the Angels' batting lineup.
Evaluating Offensive Power
Atlanta Braves' offensive prowess comes from their standout performers, namely Ronald Acuna Jr. and Matt Olson. Acuna Jr. leads the team with a stellar batting average of .331, indicating a high degree of consistency at the plate. Meanwhile, Olson provides the team with tremendous power, having knocked 36 balls out of the park and driven in 90 runs so far this season. The combined offensive strength of these two hitters is a major part of the Braves' success and will undoubtedly be a key factor in the upcoming game.
Exploring the Injury Report
Like the Angels, the Braves are also navigating through some injury concerns. Key players such as Max Fried and Sam Hilliard are on the Injured List, and their absence could potentially impact the team's performance in this game. The Braves' depth will be tested, and it will be interesting to see how they adjust their strategies to compensate for these missing pieces.
Prediction
After conducting an exhaustive analysis, we arrive at our prediction for the upcoming MLB game between the Los Angeles Angels and the Atlanta Braves - a wager on the over of 10 runs. Several factors influence this decision. Firstly, the exceptional offensive capabilities of both teams, with standouts like Shohei Ohtani for the Angels and Ronald Acuna Jr. and Matt Olson for the Braves, suggest a high-scoring game. Secondly, the pitching statistics of Lucas Giolito and Yonny Chirinos imply that both pitchers might give up runs, adding to the high score probability.
As always, it's important to bear in mind that sports outcomes can be unpredictable. Our analysis serves as a guide, rather than a guaranteed outcome, and we encourage responsible gambling. If you're interested in more expert MLB picks, we invite you to join our community at KingPin.pro.
Pick: Over 10 runs
#1

last 30 days winnings
$10,620
Yesterday winnings
$1,370
#2

last 30 days winnings
($900)