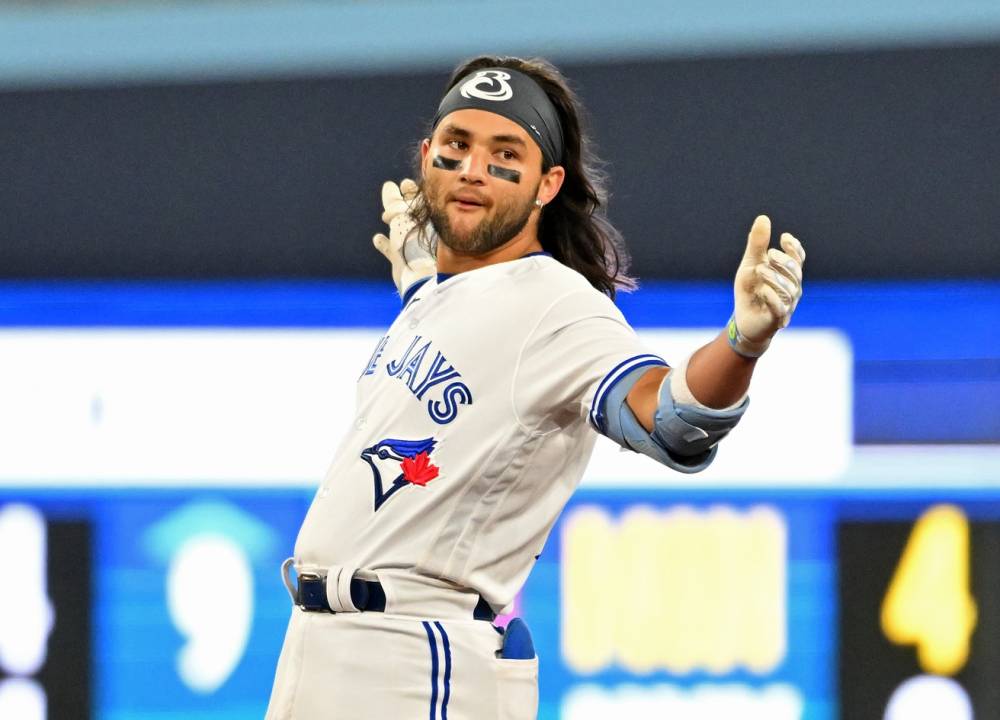 Blue Jays vs Rays Prediction MLB Picks Today 4/15
Apr 15, 2023, 8:52:06 AM
© Dan Hamilton-USA TODAY Sports
MLB Game Preview: Rays vs Blue Jays
The Tampa Bay Rays and the Toronto Blue Jays are set to face off in an exciting MLB matchup on April 15, 2023. As the Rays head into the game with a perfect record of 13-0, experts and MLB picks computer predictions are favoring them to come out on top once again. However, the Blue Jays have been playing well themselves and have an 8-5 record to boast heading into the game. MLB picks experts and predictions are expecting a competitive game that will keep fans on their toes throughout. The Rays are currently the favorite to take the win and maintain their undefeated record, but the Blue Jays are determined to prove that they are a serious contender in the league this year. Many MLB picks and parlays for today are advising fans to keep an eye on the pitching match-up between the Rays' Josh Fleming and the Blue Jays' Yusei Kikuchi, as they are expected to
Rays: Pitching Analysis
The Tampa Bay Rays have started the 2023 MLB season with a perfect record of 13-0, thanks in large part to their outstanding pitching staff. The Rays have allowed just 23 runs scored against them in those 13 games, which is the fewest in the majors. The Rays' pitching staff has been dominant in every aspect of the game, from the starters to the bullpen. MLB picks experts and predictions from computer algorithms have all been favoring the Rays in most of their games. MLB picks and parlay experts and MLB picks with spread have all been recommending the Rays as a solid betting option in their games. The Rays are led by their ace pitcher Josh Fleming, who has started the season with a 0-0 record and a 6.43 ERA. In his first two starts, Fleming has allowed seven runs on 11 hits with one walk and 10 strikeouts in 11 innings pitched.
Rays: Hitting Analysis
The Tampa Bay Rays have been off to a hot start this season, boasting a perfect 13-0 record and leading the American League East standings. But what has been the key to their success? A closer look at their hitting performance may provide some insights. According to MLB experts and computer predictions, the Rays are expected to continue their winning streak with their solid hitting performance. Their batting average of .287 ranks first in the league, along with their impressive slugging percentage of .576, on-base percentage of .364, and runs per game average of 7.77. Brandon Lowe and Randy Arozarena lead the team with 5 home runs each, while the rest of the lineup has also been contributing with multiple extra-base hits. Their ability to avoid strikeouts and draw walks has also helped them create scoring opportunities and maintain their momentum. On the defensive side, the Rays have been equally impressive, with an earned run average of 2.23, the best in the league so far. However, their
Blue Jays: Pitching Analysis
When it comes to predicting the outcome of a baseball game, the analysis of pitching is crucial. This is especially true for the Toronto Blue Jays, who have been relying heavily on their pitching staff in recent years. Experts and computer MLB picks both predict the Blue Jays to have a strong pitching performance this season. With a solid lineup of pitchers, including Josh Fleming and Yusei Kikuchi, the Blue Jays are poised to make a run for the playoffs. Many MLB picks and parlays also point to the Blue Jays' pitching as a key factor in their success. The team's pitching strategy, which focuses on a mix of power and precision, has helped propel them towards the top of the league. MLB experts pick the Blue Jays as one of their top teams to watch this season, with many predicting them to win the American League East standings. With their pitching staff leading the way, the Blue Jays' odds look good for making a deep postseason run.
Blue Jays: Hitting Analysis
The Toronto Blue Jays continue to be a team with a lot of potential, especially when it comes to their hitting abilities. Many MLB picks experts believe that the Blue Jays have the potential to be a top offensive team in the MLB this season. With the help of computer MLB picks and predictions, it is clear that the Blue Jays have a lot of hitters who are capable of making an impact. One player to watch out for is Bo Bichette, who has been a consistent hitter for the Blue Jays. He currently has four home runs and an impressive batting average of .339. Brandon Lowe of the Tampa Bay Rays has also been having a hot start to the season, with five home runs and an average of .333. When it comes to MLB picks and parlay, the Blue Jays are a popular pick for many experts. Their hitting potential gives them an edge over their opponents, and they are often able to put up a lot of runs on the board. MLB experts picks today often include the Blue Jays Injury Report As the MLB season progresses, injuries become a more prevalent issue for teams to deal with. It is important for MLB picks experts and those making MLB picks with a computer to stay up-to-date on injury reports and how they may impact a team's performance. Here are the current injury reports for Tampa Bay Rays and Toronto Blue Jays. Tampa Bay Rays have several players on the Injured List, including starting pitchers Zach Eflin and Tyler Glasnow. This can have a huge impact on the Rays' ability to win games and make accurate MLB picks and predictions. In addition, relief pitcher Jeffrey Springs is currently out and Johan Lopez is serving a suspension. On the other side, Toronto Blue Jays have three players listed as day-to-day, including starting pitchers Brandon Barriera and Trent Palmer, as well as pitcher Irv Carter. It is crucial for those making MLB picks and parlay to monitor these injuries and how they may impact the Blue Jays' performance. Overall, injuries can have a significant impact on MLB picks today, and
Player
Team
Position
Injury Status
Zach Eflin
Tampa Bay Rays
SP
15-day IL
Tyler Glasnow
Tampa Bay Rays
SP
15-day IL
Shane Baz
Tampa Bay Rays
SP
60-day IL
Jeffrey Springs
Tampa Bay
Prediction
For today's MLB picks and parlays, we turn to the experts and computer predictions for guidance. After analyzing the data, our pick for today's game is the Tampa Bay Rays. While they may not be the favorite, their overall performance this season and impressive run differential make them a strong pick. It's important to note that blindly taking the favorite every time is not a smart betting strategy. It's important to consider all factors, including injuries, team chemistry, and current form, before making a pick. For the best MLB bets today, be sure to do your research and consider all the available information before placing your wager. Good luck!
Pick: Rays ML
Upgrade to View Prediction
#1

#2

last 30 days winnings
$930