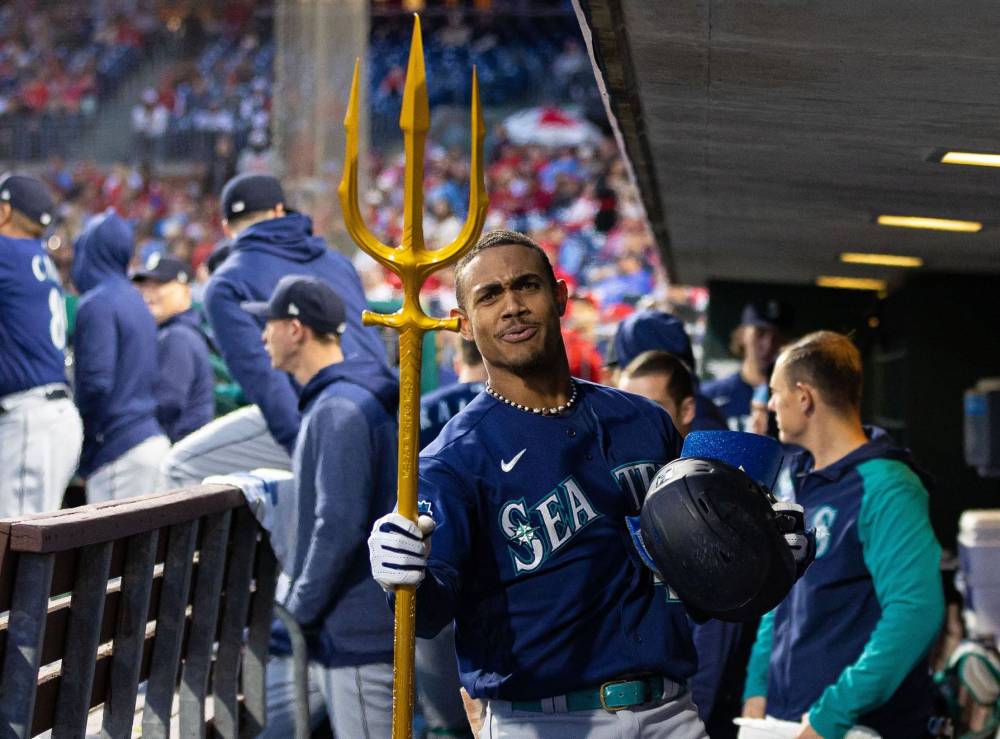 Blue Jays vs Mariners Prediction MLB Picks Today 4/28
Apr 28, 2023, 2:24:22 AM
© Bill Streicher-USA TODAY Sports
Mariners vs Blue Jays (Apr 28, 2023) Pregame: MLB Picks, Expert Predictions, and More
The Seattle Mariners (11-14, 4-5 away) take on the Toronto Blue Jays (16-9, 7-2 home) on April 28, 2023, at Rogers Centre in Toronto, Ontario. This promising match-up guarantees to bring excitement to baseball fans around the world. Both teams are equipped with talented players, and the competition between the two is sure to be fierce. MLB Picks, Experts Predictions, and More will be analyzing the game to provide exclusive insights and valuable information to fans before the first pitch is thrown. The prediction article will cover the performance data of both teams' key players, the pitching rotation, injury reports, and more. Subscribers will have access to a comprehensive matchup predictor, runline performance, and full pick center analysis. Don't miss this exciting pregame, and stay tuned for the full article.
Mariners: Pitching Analysis
The Seattle Mariners have struggled in the early part of the 2023 MLB season, posting an 11-14 record thus far. A major factor in their struggles has been their pitching staff, which ranks 21st in the league with a 3.81 ERA. The Mariners will send right-hander Luis Castillo to the mound in their matchup against the Toronto Blue Jays on April 28, 2023. Despite a 2-0 record and a 1.52 ERA, Castillo faces a tough challenge in the Blue Jays' potent lineup. The computer and experts from MLB Picks predict a close game, with the Blue Jays holding a slight advantage at 51.9%. However, the Mariners cannot be counted out with their ability to produce runs and stay competitive in games. Looking ahead, if the Mariners can improve their pitching performance and get some consistency out of their starters, they have the potential to turn their season around and make a push for the playoffs. Fans and analysts alike will be watching closely to see if they can overcome their early-season struggles and find success on the mound.
Mariners: Hitting Analysis
The Mariners' hitting has been a mixed bag this season, with some standout performances and some lackluster ones. MLB picks and experts have used a combination of computer models and expert predictions to try to determine how the Mariners will perform at the plate. MLB Today experts who have been following the Mariners closely have pointed out some key players to watch out for, like Jarred Kelenic who has had a great start to the season with seven home runs and a .316 AVG. Matt Chapman of the Blue Jays has also been a formidable opponent, with five home runs and a .364 AVG. MLB picks and parlays have also taken into account the Mariners' overall performance this season, with a record of 11-14 and a 4-5 away record.
Blue Jays Pitching Analysis:
In this crucial matchup between the Seattle Mariners and the Toronto Blue Jays, the pitching duel is expected to be intense. According to MLB picks experts, both teams have formidable pitchers who could lead them to victory. However, the computer and emp predictions differ on who will come out on top. For the Mariners, Luis Castillo is slated to take the mound. He has an impressive record of 2-0 with a 1.52 ERA and 29 strikeouts. His opponent, Alek Manoah, has had a slow start to the season with a record of 1-1 and a 5.13 ERA. However, his potential cannot be ignored, especially given the Blue Jays' strong offense. MLB picks and parlay suggest a slight advantage for the Blue Jays with a -115 moneyline consensus pick. The computer prediction also favors the Blue Jays with a 51.9% chance of winning. Alternatively, the emp prediction gives the Mariners a 48.1% chance of winning. Overall, this matchup is bound to be a nail-biter, with both teams giving it their all on the mound. But with the Blue Jays' strong offense and their pitcher's potential, they have a slight advantage according to expert and computer predictions. However, the Mariners may surprise everyone with Luis Castillo's outstanding performance, as predicted by the emp algorithm.
Blue Jays : Hitting Analysis
The hitting leaders for the Blue Jays include Jarred Kelenic LF with 7 home runs and a batting average of .316, while Matt Chapman 3B has a batting average of .364 and 18 RBIs. However, the Mariners' defense has been strong this season, with a defense value ranking of #2 in slugging percentage against. It will be interesting to see how the Blue Jays will fare against such a strong defense. Overall, the Blue Jays are looking like the favorites to win this game, but as with any MLB game, anything can happen. MLB picks experts will be closely watching to see how the game unfolds and making last-minute predictions based on the latest information.
Injury Report
As with any professional sports league, injuries are a constant concern for MLB teams. Knowing which players are sidelined can give teams an edge when making MLB picks. Injury updates are especially important when choosing between MLB picks from experts, computer-generated MLB picks, and predictions from MLB today experts. For the Seattle Mariners, outfielder Taylor Trammell was placed on the 10-day injured list on April 23, while outfielder Dylan Moore was added to the same list on April 25. As for the Toronto Blue Jays, relief pitcher Adam Cimber was placed on the 15-day injured list on April 24, while starting pitcher Chris Bassitt is day-to-day with an injury. Meanwhile, outfielder George Springer is also day-to-day and starting pitcher Mitch White was placed on the 15-day injured list on April 26.
| Player | Team | Position | Injury Status |
| --- | --- | --- | --- |
| Taylor Trammell | Seattle Mariners | RF | 10-day IL |
| Dylan Moore | Seattle Mariners | RF | 10-day IL |
| Robbie Ray | Seattle Mariners | SP | 15-day IL |
| Adam Cimber | Toronto Blue Jays | RP | 15-day IL |
| Chris Bassitt | Toronto Blue Jays | SP | day-to-day |
| George Springer | Toronto Blue Jays | RF | day-to-day |
| Mitch White | Toronto Blue Jays | SP | 15-day IL |
Prediction
In conclusion, the Seattle Mariners will face off against the Toronto Blue Jays on April 28, 2023. The experts and computer MLB picks are leaning towards a Blue Jays victory, but as an MLB expert, I am going against the odds and picking the Seattle Mariners as my underdog pick of the day. The Mariners have been struggling lately, but with Luis Castillo on the mound, they have a chance to turn things around.
Pick: Mariners ML
Upgrade to View Prediction
#1

#2