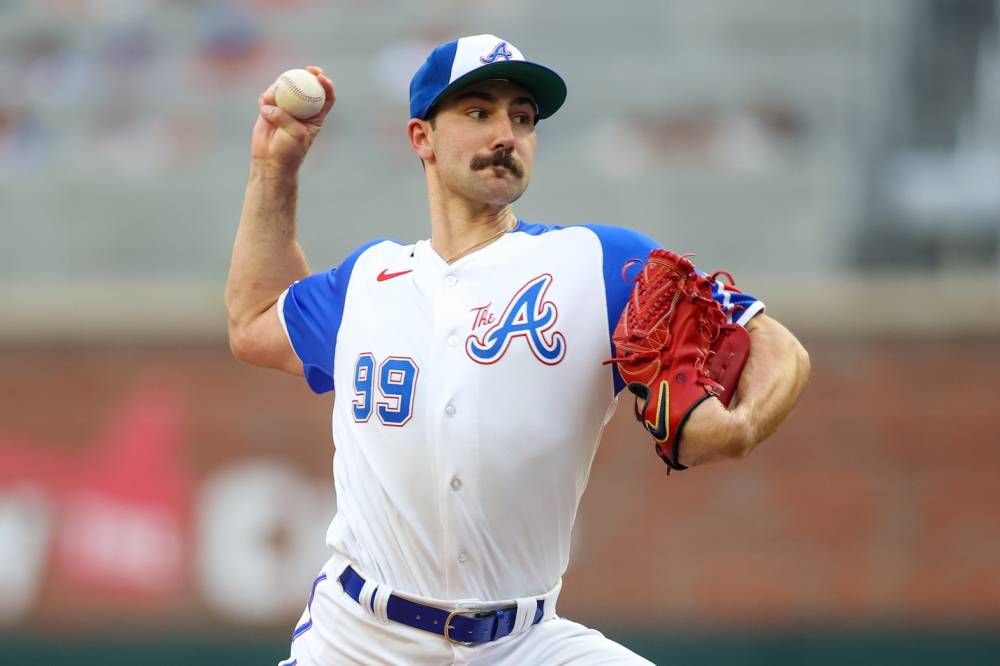 Blue Jays vs Braves Prediction MLB Picks Free 5/12
May 12, 2023, 7:57:49 PM
© Brett Davis-USA TODAY Sports
Braves vs Blue Jays (May 12, 2023) Pregame: Get Ready for Exciting MLB Action!
The Atlanta Braves (25-12, 15-3 away) are heading north of the border to take on the Toronto Blue Jays (21-16, 9-3 home) in what is sure to be a thrilling matchup on May 12, 2023. Both teams are stacked with talent, and with the game set to kick off at 7:07 PM in the Rogers Centre in Toronto, Ontario, we can't wait to see these two teams clash in what is sure to be an epic showdown. Keep reading for a full-length prediction article about the Braves vs BlueJays matchup, including probable pitchers, batting and pitching leaders, team stats, and current roster updates. And be sure to tune in on May 12, 2023, to catch all the action live from the Rogers Centre!
Braves: Pitching Analysis
The Braves have a well-rounded rotation that is anchored by Spencer Strider, who has been nothing short of dominant through the first month and a half of the season. Strider boasts a perfect 4-0 record, a 2.70 ERA, and an impressive 1.03 WHIP. He has been a strikeout machine, racking up 67 Ks in just 37.0 innings pitched. In addition to Strider, the Braves have a number of other reliable arms. Charlie Morton is an experienced veteran who has been one of the most consistent starters in the league for years. Michael Tonkin and Kirby Yates have been reliable options out of the bullpen, and the addition of Raisel Iglesias has added another potent arm to the mix. When making MLB picks, experts and computer models alike have taken notice of the Braves pitching staff. The team's strong pitching performances have been a key factor in their impressive 25-12 record and place atop the National League East standings. With solid pitching and a potent offense, the Braves are poised to make a deep run in the postseason. If their pitching staff can continue to perform at a high level, they will be a tough team to beat in any matchup.
Braves: Hitting Analysis
With a win percentage of .676, they are ranked second in the league and have one of the highest run differentials, with a score of +59. Matt Olson, the first baseman for the Braves, leads the team with 11 home runs, while Bo Bichette, the shortstop for the Blue Jays, leads the opposing team with 8 home runs. Ronald Acuna Jr., the right fielder for the Braves, has an impressive batting average of .347, accompanied by an OBP of .438 and an SLG of .576. On the other hand, Matt Chapman, the third baseman for the Blue Jays, has a batting average of .338 and an OBP of .425, with an SLG of .579. The Braves also have a solid slugging percentage of .463, ranked second in the league, and on-base percentage of .342, ranked third in the league. Their offense also shows strength in home runs per game, ranked third in the league with 1.62. Their pitching is also solid, with an earned run average of 3.52, which is ranked sixth in the league. All in all, the experts' MLB picks today suggest that the Braves have a strong chance of winning the upcoming game against the Blue Jays on May 12, 2023. With their solid hitting lineup and pitching staff, they are undoubtedly a formidable team.
Blue Jays Pitching Analysis:
Chris Bassitt, a right-handed pitcher with a record of 4-2 and an ERA of 4.28, will be starting on the mound. His pitching stats include 29.1 innings pitched, 9 walks, and 32 strikeouts. Both teams have solid pitchers on their roster, making the game a challenging matchup for hitters to score. The Braves hold the advantage in terms of run differential with +59 while the Blue Jays are at +42. However, the Blue Jays have a slightly better team ERA of 3.91 compared to the Braves' 3.52. Overall, it will be an exciting game to watch, with both teams bringing their best pitchers to the mound. The game's outcome could come down to which team's hitters can create more opportunities to score.
Blue Jays: Hitting Analysis
Shortstop Bo Bichette is leading the charge with 8 home runs and a .329 batting average. Third baseman Matt Chapman has also been a force to be reckoned with, boasting a .338 batting average, .425 OBP, and .579 SLG. Based on the MLB picks and parlay bets, it seems that the experts are favoring the Braves to come out on top, with a 58.8% chance of winning according to analytics. However, the Blue Jays are a formidable opponent and have proven themselves to be a resilient team. Ultimately, it's anyone's game and fans can expect an exciting matchup between these two talented teams.
Injury Report
As the Atlanta Braves and Toronto Blue Jays gear up for their game on May 12, 2023, both teams have some notable injuries to report. For the Braves, pitcher J.R. Ritchie is listed as day-to-day, while Kyle Wright and Max Fried are on the 15-day injured list. Shortstop Ehire Adrianza is also on the 10-day injured list. The Blue Jays have their own injuries to deal with, as Mitch White and Adam Cimber are both on the 15-day injured list, while George Springer is day-to-day. These injuries could potentially impact the outcome of the game, and both teams will likely be counting on their remaining players to step up and fill the gaps. As MLB picks experts and computer MLB picks and predictions are made for this game, bettors should keep an eye on the injury report and how it might affect the outcome. Despite the injury setbacks, the Braves are currently favored to win with a 58.8% chance according to analytics. However, anything can happen in baseball and the Blue Jays could surprise the experts with a win.
| Player | Team | Position | Injury Status |
| --- | --- | --- | --- |
| JR Ritchie | Atlanta Braves | SP | day-to-day |
| Kyle Wright | Atlanta Braves | SP | 15-day IL |
| Max Fried | Atlanta Braves | SP | 15-day IL |
| Ehire Adrianza | Atlanta Braves | SS | 10-day IL |
| Mitch White | Toronto Blue Jays | SP | 15-day IL |
| Ricky Tiedemann | Toronto Blue Jays | SP | day-to-day |
| Adam Cimber | Toronto Blue Jays | RP | 15-day IL |
| George Springer | Toronto Blue Jays | RF | day-to-day |
Prediction
Looking at the statistics, the Braves have a strong offense, ranking second in win percentage and runs per game. Their defense also ranks well, with the third-best run differential in the league. On the other hand, the Blue Jays have a solid batting lineup, with Bo Bichette and Matt Chapman as their leaders in home runs and batting average, respectively. However, taking into account the probable pitchers for the game, our MLB experts predict that the Braves will come out on top. Spencer Strider has been performing well this season with a 4-0 record and a 2.70 ERA, while Chris Bassitt has been struggling with a 4-2 record and a 4.28 ERA.
Pick: Braves
#1

#2