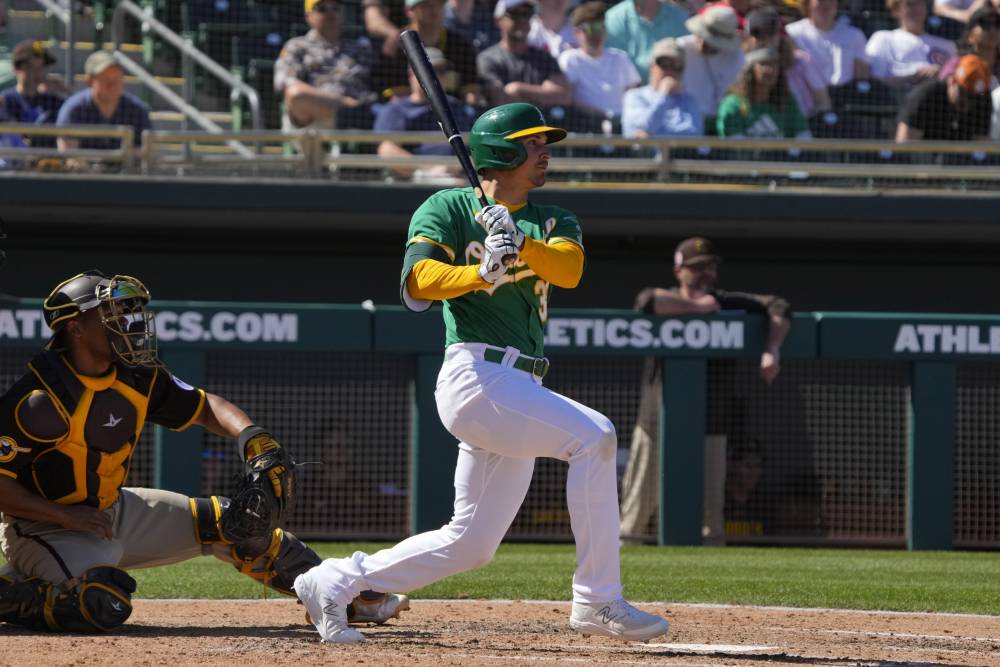 Athletics vs Royals: MLB Picks and Predictions 3/16
Mar 15, 2023, 11:28:26 PM
© Rick Scuteri-USA TODAY Sports
Intro
As the MLB 2023 season continues to unfold, baseball fans eagerly anticipate the upcoming match between the Oakland Athletics and the Kansas City Royals, set to take place on March 16, 2023, at 4:05 PM. The game will be held at the Surprise Stadium in Surprise, Arizona, and with both teams showcasing their talent and potential, it promises to be an exciting and closely contested game. To stay updated on the latest MLB picks for today, download the Kingpin.pro app on iOS and Android and receive expert advice, insights, and predictions.
Oakland Athletics
Hitting The Oakland Athletics' offense has showcased some solid hitting this season, with a team batting average of .266 and a total of 18 home runs. Jace Peterson leads the team in home runs with 2, while Esteury Ruiz has proven to be a valuable contributor, driving in 10 RBIs and batting .241. Despite these individual performances, the Athletics will need to increase their offensive production and take advantage of any opportunities presented by the Royals' pitching staff to secure a win in this match.
Pitching The Athletics' pitching has been a concern for the team, as their ERA currently stands at 6.67, and they have allowed an opposing batting average of .289. They have issued 106 walks, which has contributed to their high WHIP of 1.80. The pitching staff must step up their game and limit the damage inflicted by the Royals' potent lineup. To stay updated on MLB picks and parlays, download the Kingpin.pro app for expert insights and advice.
Kansas City Royals
Hitting The Kansas City Royals have had an impressive offensive display this season, boasting a team batting average of .310 and hitting 29 home runs. Michael Massey has been a standout performer, driving in 10 RBIs and hitting three home runs while maintaining a .375 batting average. The Royals' lineup features a strong combination of power and contact hitting, which could prove to be a challenge for the Athletics' pitching staff. Keep an eye on MLB picks today to stay informed on the latest predictions and picks.
Pitching The Royals' pitching has been solid thus far, with a team ERA of 4.36 and an opposing batting average of .252. Their WHIP of 1.33 is also respectable, and the pitching staff has struck out 175 batters while issuing 55 walks. The Royals will need to continue their strong pitching performance to stifle the Athletics' offense and secure a victory in this game. For MLB picks free and expert advice, download the Kingpin.pro app and stay updated on the latest trends and predictions.
Injuries
Injuries can play a significant role in the outcome of any match, and both teams are dealing with injuries to key players. For the Oakland Athletics, starting pitcher Paul Blackburn and catcher Manny Pina are both out, while relief pitcher Freddy Tarnok is listed as day-to-day. On the Kansas City Royals' side, starting pitcher Angel Zerpa is on the 60-day injured list. These injuries could impact the performance and depth of both teams, making MLB picks and parlays even more crucial for predicting the outcome of the match.
Prediction
Considering the offensive prowess of the Kansas City Royals and the struggles of the Oakland Athletics' pitching staff, it seems that the Royals hold a slight advantage in this matchup. However, baseball is a game of unpredictability, and anything can happen on any given day. To stay updated on MLB expert picks, download the Kingpin.pro app and receive the latest insights and predictions from industry experts.
Pick: Kansas City Royals
#1

#2