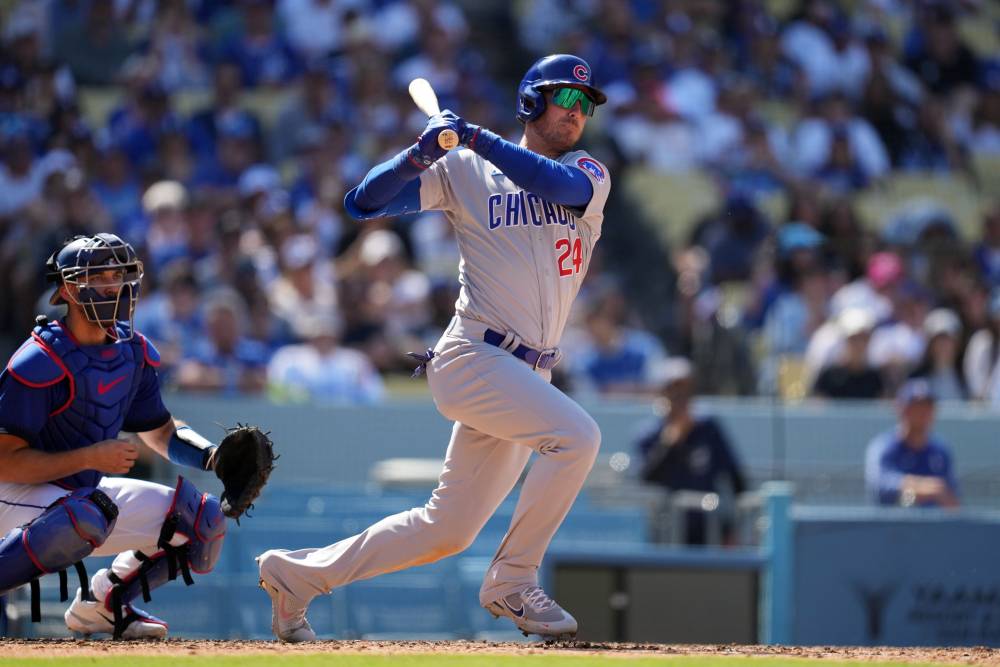 Athletics vs Cubs Prediction MLB Picks and Parlays 4/17
Apr 17, 2023, 8:06:28 AM
© Kirby Lee-USA TODAY Sports
Game Preview: Chicago Cubs vs Oakland Athletics
The Chicago Cubs will take on the Oakland Athletics in what promises to be a thrilling game of baseball. Experts in MLB picks, computer models, and predictions have weighed in on this matchup, giving fans a variety of choices for their MLB bets today. With both teams looking to prove themselves on the field, this game could be anyone's to win. Fans should tune in to see how the Cubs' pitching staff, led by Hayden Wesneski, will fare against the Athletics' batters, including Brent Rooker and Esteury Ruiz. As the experts continue to make their MLB picks and parlay options, it's clear that this game will be a highly competitive one. Fans looking for the best MLB bets today should keep an eye on the spread and odds for this game, as they may shift as the first pitch approaches. Don't miss out on the action as the Chicago Cubs take on the Oakland Athletics in what should be an exciting game of baseball. Stay tuned for our full-length prediction article on this MLB matchup.
Cubs: Pitching Analysis
As the Chicago Cubs head into the 2023 MLB season, the pitching staff will be a critical factor in their success. MLB picks experts and computer MLB picks and predictions will be closely monitoring the team's performance as they strive to improve upon their 7-6 start. One area of concern for the Cubs is their starting rotation. The probable pitchers for the April 17th game against the Oakland Athletics are Hayden Wesneski and Kyle Muller. Wesneski holds a 0-0 record with a 7.50 ERA and 1.20 WHIP, while Muller has yet to record a win with a 0-0 record, but boasts a lower 5.52 ERA with a 1.50 WHIP. The Cubs' bullpen has also shown some weaknesses early on, with an ERA of 3.70 and a WHIP of 1.20. However, experts believe the bullpen has room for improvement as the season progresses. Overall, the Cubs will need their pitching staff to step up if they hope to make a deep postseason run. MLB today
Cubs: Hitting Analysis
When it comes to hitting, the Cubs have been putting up some solid numbers so far this season. With a .273 team batting average and 5.38 runs per game, they are an above-average offensive team. However, there are some areas where they may struggle. One potential issue is their home run production, as they are averaging just 1.23 home runs per game. Patrick Wisdom leads the team with five, but the Cubs will need more players to start hitting the long ball consistently if they want to keep up with the league's top offenses. Another potential issue is their high strikeout rate. The Cubs are averaging 8.38 strikeouts per game, which ranks near the middle of the league. However, this could become problematic if they start facing more dominant pitching staffs. Overall, the Cubs' hitting should keep them competitive in most games, but they will need to address their lack of power and high strikeout rate if they want to be considered a serious contender. MLB picks experts and computer MLB picks and emp predictions may factor in these offensive numbers as they make their MLB today experts MLB picks and MLB
Athletics: Pitching Analysis
When it comes to making MLB picks, experts can use a combination of computer algorithms and their own predictions. For today's experts, analyzing the pitching of both the Chicago Cubs and Oakland Athletics will be crucial in making their MLB picks and parlays. Looking at the probable pitchers for this matchup, it's clear that the Cubs have an advantage. Hayden Wesneski has yet to record a win and has an ERA of 7.50, while Kyle Muller has a record of 0-5 and an ERA of 5.52. Muller has also given up 14 runs and 2 home runs in just 21.5 innings pitched. On the other hand, the Cubs have several reliable pitchers including Marcus Stroman who has an ERA of 3.70 and has only given up 4 runs in his last 3 starts. Their bullpen has also been solid, with Brad Boxberger recording 3 saves and a 1.29 ERA. Based on their pitching performances this season, the Cubs are the best MLB picks for today's game. Their pitching staff has been consistent and
Athletics: Hitting Analysis
When it comes to predicting MLB picks, experts and computers alike are always analyzing hitting performance. Today's experts are no exception, and their MLB picks and parlay predictions for the Oakland Athletics are based on a thorough analysis of their hitting statistics. Despite their struggles this season, the Athletics have some bright spots in their lineup. Brent Rooker leads the team with a .310 batting average and 11 RBIs, while Estuery Ruiz has been a consistent contributor with a .326 average and .426 on-base percentage. The power numbers aren't quite there yet, with only 16 total home runs as a team, but there is potential for improvement. However, the A's will have a tough matchup tonight against a Chicago Cubs team that is averaging over five runs per game and has a solid pitching staff. The Cubs' offense is led by Patrick Wisdom, who already has five home runs on the season, and a reliable middle of the order with Eric Hosmer and Dansby Swanson. Overall, the Athletics will need a strong hitting performance to compete with the Cubs tonight.
Injury Report:
Injuries always play a big part in any sport and MLB is no exception. Keeping track of injuries is crucial for both MLB picks experts and computer MLB picks em predictions. Below is the injury report for today's game between the Chicago Cubs and the Oakland Athletics: Chicago Cubs: Fortunately, the Cubs have no injured players as of now. This is great news for the Cubs and their fans as they can field their strongest possible lineup. Oakland Athletics: On the other hand, the Athletics have a few key players missing due to injuries. Deolis Guerra (RP) is day-to-day, while Paul Blackburn (SP) is on the 15-day IL. Freddy Tarnok (RP) is on the 60-day IL, while Manny Pina (C) is on the 10-day IL. Drew Rucinski (RP) is also on the 15-day IL. These injuries can impact the Athletics' performance and decrease their chances of winning. Overall, the Cubs seem to have an advantage in terms of injuries as they have a fully fit squad. However, the Athletics have been known to fight back even with key players
| Player | Team | Position | Injury Status |
| --- | --- | --- | --- |
| N/A | Chicago Cubs | N/A | No injured players |
| Deolis Guerra | Oakland Athletics | RP | day-to-day |
| Paul Blackburn | Oakland Athletics | SP | 15-day IL |
| Freddy Tarnok | Oakland Athletics | RP | 60-day IL |
Prediction
Although the Cubs are not the favorites according to the odds, we believe that they have the potential to pull off a win against the struggling Athletics. Our MLB experts have analyzed the team rosters, previous statistics, and injury reports in order to come to this conclusion. When placing your bets, it's important to remember to not always choose the favorite team. In this case, the Cubs may offer better odds and a higher potential payout than the Athletics. So, our MLB picks for today recommend going with the Chicago Cubs to win, and possibly considering a spread bet to increase potential earnings.
Pick: Cubs ML
Upgrade to View Prediction
#1

#2