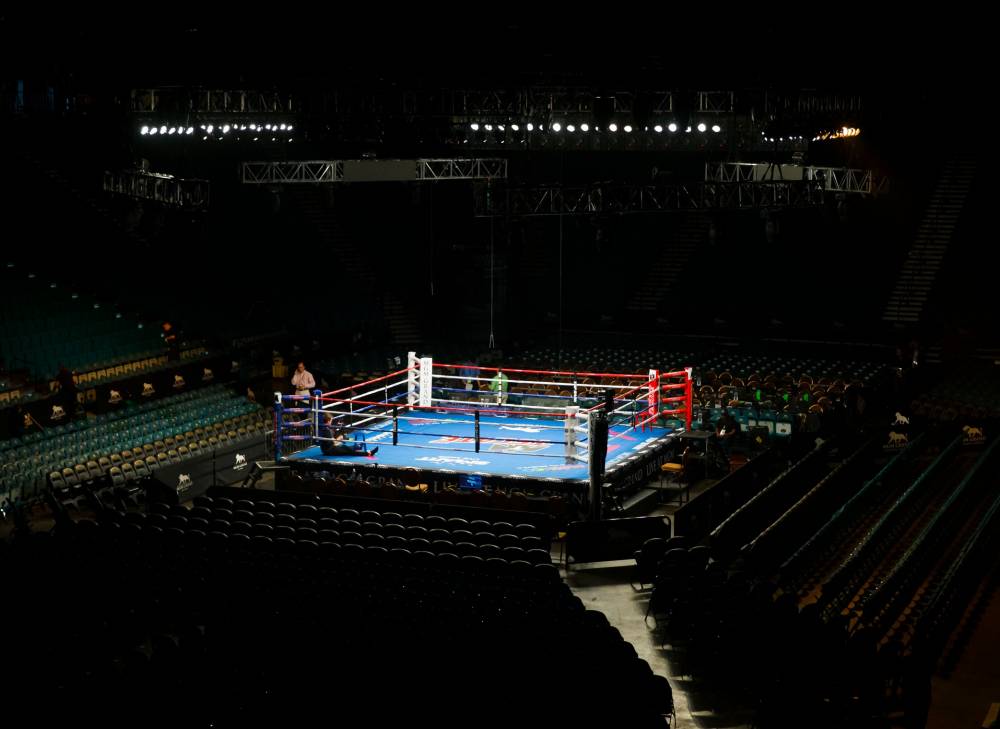 Steve Claggett vs. Rafael Guzman Prediction, Boxing Picks
Mar 23, 2023, 7:39:34 AM
© Mark J. Rebilas-USA TODAY Sports
Steve Claggett vs. Rafael Guzman
On March 25, 2023, two talented boxers, Steve Claggett and Rafael Guzman, are set to face off in a 12-round match. The fight promises to be an exciting one, as both fighters are known for their skill and determination in the ring. In this article, we'll take a closer look at each fighter's stats and fight history, as well as provide a prediction for who will come out on top.
Steve Claggett
Steve "Dragon" Claggett is a seasoned Canadian boxer with over 40 professional bouts under his belt. The 33-year-old fighter from Calgary, Alberta, stands at 5'8" (173cm) tall and has a reach of 70.0" (178cm). Claggett fights out of the Goldenstars Boxing gym and has a record of 33-7-2 (Win-Loss-Draw).
Claggett has had some notable wins throughout his career, defeating fighters such as Emanuel Lopez, Tony Luis, and Jonathan Jose Eniz. In his most recent fight, he retired his opponent Sebastian Ezequiel Aguirre in the 9th round.
However, Claggett has also suffered some tough losses, including a unanimous decision loss to Konstantin Ponomarev and a split decision loss to Mathieu Germain in his last fight. Claggett will be looking to bounce back and prove himself against Rafael Guzman.
Rafael Guzman
Rafael "Furioso" Guzman is a rising star in the Mexican boxing scene, with a record of 26-1-2 (Win-Loss-Draw). The 27-year-old fighter from Ensenada, Baja California, stands at 5'8" (174cm) tall and has a reach of 63.0" (160cm).
Guzman has had some impressive wins in his career, defeating fighters such as Francisco Javier Hernandez, Eleazar Valenzuela, and Miguel Angel Bautista Navarrete in his most recent fights. Guzman's only loss was in a unanimous decision to Jose Eduardo Hernandez Rizo.
In his last fight, Guzman drew against David Moreno Potrero in a split decision. While he dominated the early rounds, he lost momentum in the later rounds resulting in a draw. Guzman will be looking to come out on top and secure a win against Steve Claggett.
Prediction
Based on their stats and fight history, Rafael Guzman appears to have the edge over Steve Claggett. Guzman has a more impressive win-loss record, with only one loss compared to Claggett's seven. Additionally, Guzman has defeated more recent opponents and has been dominant in the ring.
While Claggett has had some impressive wins in his career, he has also suffered several losses, including a recent loss to Mathieu Germain. Guzman, on the other hand, has only lost once and has shown consistency in his performances.
Therefore, our prediction is that Rafael Guzman will come out on top in this match, potentially even winning by knockout or technical knockout. Of course, anything can happen in the ring, and both fighters will undoubtedly give it their all.
Pick: Rafael Guzman to win +150
Are you a box fan looking for the best boxing picks and parlays for your next fight night? Look no further than KingPin.pro, the top-rated sports betting app available on both iOS and Android. With real-time odds, public betting data, and comprehensive data analysis, you'll be able to make informed decisions when placing your bets.
But that's not all. KingPin.pro also offers access to expert handicappers and their boxing picks. These handicappers are experts in their field, with a proven track record of success, making their boxing fantasy picks and boxing picks tonight reliable and valuable. Users can purchase picks from handicappers for a variety of sports, including the NBA, NFL, MLB, and more.
In addition to expert picks, KingPin.pro also allows users to place their own picks and compete for a spot in the top 10 leaderboard. This is a great opportunity to test your skills against other sports bettors and potentially earn a payout if your pick makes it to the top 10.
One of the unique features of KingPin.pro is that users can view all the picks on the site, not just those from the handicappers they choose to follow. This allows users to gain more insight into the overall trends and predictions of the community and make more informed betting decisions.
Overall, KingPin.pro is a comprehensive and user-friendly platform for sports bettors looking for the best boxing parlays and boxing picks. Whether you're a seasoned bettor or new to the game, this app offers valuable insights and expert advice to help you make informed decisions and potentially earn some money. So, download KingPin.pro today and start betting like a pro!
#1

last 30 days winnings
($733)
#2

#3