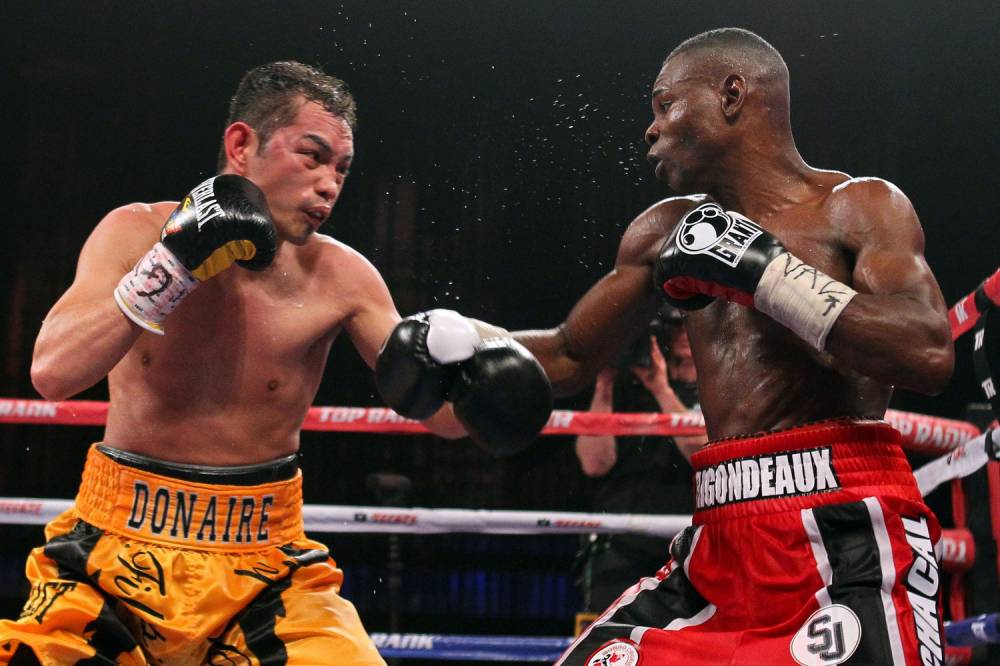 Nonito Donaire vs Alejandro Santiago Prediction Boxing 7/15
Jul 12, 2023, 7:37:10 PM
© Ed Mulholland-USA TODAY Sports
Nonito Donaire vs. Alejandro Santiago: Boxing Predictions and Analysis
Welcome to KingPin.pro, your go-to destination for boxing picks and parlays. In this article, we will provide an in-depth review of the upcoming showdown between Nonito "The Filipino Flash" Donaire and Alejandro Santiago. Set to take place in the boxing ring, this fight guarantees excitement and fierce competition. Join us as we delve into the fighters' backgrounds, assess their strengths and weaknesses, and offer a prediction on why Nonito Donaire will emerge victorious.
Review of Nonito "The Filipino Flash" Donaire
Nonito "The Filipino Flash" Donaire is a seasoned professional boxer, hailing from Talibon, Bohol, Philippines. With an impressive record of 42 wins and 7 losses, Donaire has left an indelible mark on the sport. At 40 years old, he brings a wealth of experience and an arsenal of boxing skills to the ring.
Donaire's fighting style is characterized by explosive power and lightning-fast combinations. Known for his exceptional hand speed and footwork, he can evade opponents' punches while delivering devastating counterattacks. Donaire's signature left hook has earned him numerous knockout victories throughout his career.
In his previous fight against Reymart Gaballo, Donaire displayed his resilience and knockout prowess by securing a fourth-round victory with a well-placed body shot. This win reaffirmed his status as a formidable force in the ring. Donaire's experience, power, and ability to adapt make him a challenging opponent for Santiago.
Review of Alejandro Santiago
Alejandro Santiago, with a professional record of 27 wins, 3 losses, and 5 draws, represents a formidable challenge for Donaire. Hailing from Tijuana, Baja California, Mexico, Santiago has proven himself as a skilled and durable fighter. At 27 years old, he brings youth and determination to the matchup.
Santiago's fighting style is characterized by his technical prowess and defensive skills. He possesses excellent head movement and footwork, making it difficult for opponents to land clean shots. Santiago also demonstrates a solid jab and counterpunching ability, allowing him to frustrate opponents with his elusiveness.
In his previous bouts, Santiago has showcased his ability to go the distance and challenge his opponents with his crafty boxing skills. However, he lacks the knockout power and experience that Donaire possesses, which could be a disadvantage against the Filipino Flash.
Prediction
After careful analysis of both fighters, we predict that Nonito "The Filipino Flash" Donaire will emerge victorious in this matchup against Alejandro Santiago. Donaire's superior power, experience, and ability to deliver knockout blows will be key factors in securing the win.
Santiago's defensive skills may allow him to evade some of Donaire's punches, but he will likely struggle to match the Filipino Flash's offensive firepower. Donaire's ability to generate devastating power with his punches, especially his left hook, gives him a significant advantage.
Furthermore, Donaire's experience against high-caliber opponents, including his recent fight against Naoya Inoue, has prepared him for the challenges presented by Santiago. Donaire's ring IQ and adaptability will allow him to control the pace of the fight and dictate the action.
We predict that Nonito Donaire will secure a victory either by knockout or technical knockout, overwhelming Santiago with his power and precision. However, there is also a possibility of Donaire winning by a dominant decision if Santiago manages to withstand his onslaught.
Pick: Nonito Donaire ML -160
Upgrade to View Prediction
#1

last 30 days winnings
$1,439
#2

#3