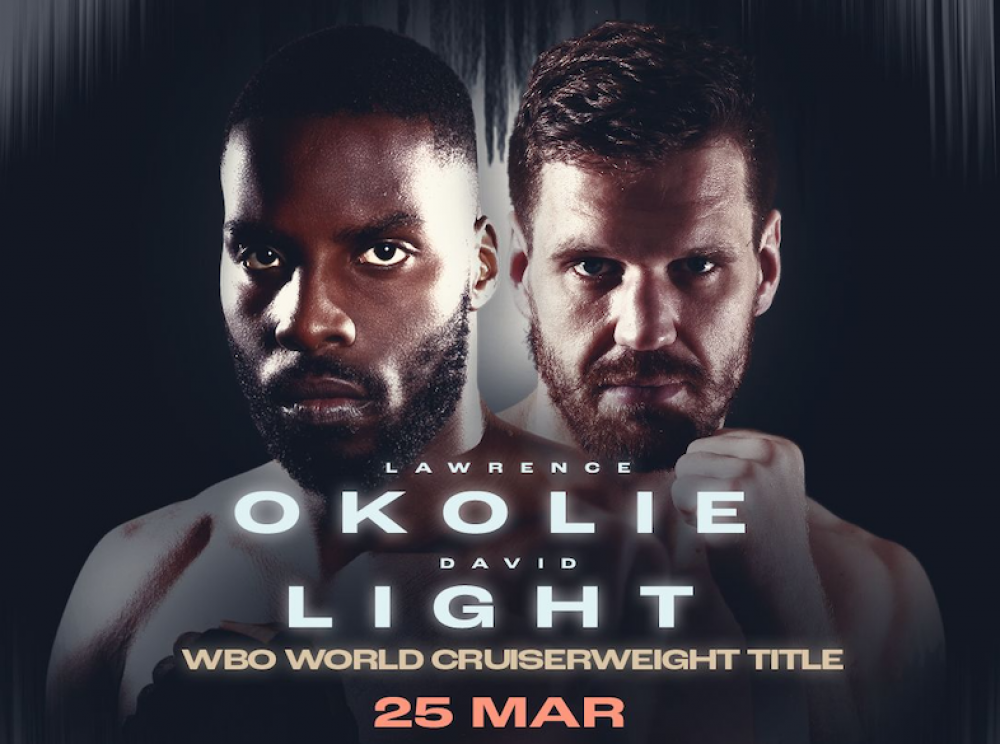 Lawrence Okolie vs David Light Prediction, Boxing Picks
Mar 23, 2023, 3:49:17 AM
Lawrence Okolie vs David Light
The boxing world is eagerly waiting for the upcoming fight between Lawrence Okolie and David Light. Scheduled for March 25, 2023, the fight will be for Okolie's WBO cruiserweight title. Both fighters have impressive records and have proven themselves in the ring. This article will provide a preview of each fighter's history and fighting style, along with a prediction of why Okolie will win by KO/TKO or disqualification.
Lawrence Okolie
Lawrence "The Sauce" Okolie has a perfect professional record of 18-0-0 and will be defending his WBO cruiserweight title against David Light on March 25, 2023. The 30-year-old British boxer is a towering presence in the ring at 6'5" with an impressive 82.5" reach. Okolie has demonstrated excellent boxing skills throughout his career, but his power and size have been his biggest advantages in the ring.
Okolie has shown tremendous improvement in his boxing technique over the years, and his jab is one of his best weapons. He uses it to keep his opponents at bay, set up his combinations, and control the distance. In addition to his jab, Okolie has a potent right hand, which he uses to finish his opponents.
Okolie has been in some notable fights throughout his career, including his victory over Krzysztof Glowacki to win the WBO cruiserweight title in March 2021. He has also defeated notable fighters like Nikodem Jezewski, Yves Ngabu, and Wadi Camacho. Okolie has always been a dangerous opponent for his rivals, and his power and size make him a force to be reckoned with.
David Light
David "The Great White" Light is a New Zealand boxer with a perfect professional record of 20-0-0. The 31-year-old fighter has been impressive throughout his career, with 15 of his victories coming by way of knockout. Light is known for his strong right hand and his ability to finish fights early.
Light has a lot of confidence in his abilities and is always looking to take the fight to his opponents. He has a high work rate and is not afraid to throw combinations, which has been one of his biggest assets in the ring. Light's punching power is also a key factor in his success, and he has shown that he can end fights with a single punch.
Although Light has not faced many top-level opponents, he has been impressive in his fights against Nikolas Charalampous, Savenaca Naliva, and Trent Broadhurst. These victories have put him on the radar of many boxing fans and experts, and his upcoming bout against Okolie will be his chance to prove himself on the big stage.
Prediction
Both fighters are skilled and have impressive records, but Lawrence Okolie has the edge in this fight. Okolie's height and reach advantage will make it difficult for Light to get inside and land punches. Okolie is also a powerful puncher, and if he lands a clean shot on Light, it could be the end of the fight.
Light's best chance is to use his quick footwork and move around the ring, trying to frustrate Okolie and force him to make mistakes. However, Okolie is a patient fighter who will wait for the right opportunity to strike.
In the end, I predict that Okolie will win by KO/TKO or disqualification. His height, reach, and power will be too much for Light to handle, and Okolie will take advantage of any openings that Light gives him. It will be an exciting fight, but in the end, Okolie will emerge as the winner and retain his WBO cruiserweight title.
Pick: Lawrence Okolie to win by KO/TKO or disqualification
Are you a box fan looking for the best boxing picks and parlays for your next fight night? Look no further than KingPin.pro, the top-rated sports betting app available on both iOS and Android. With real-time odds, public betting data, and comprehensive data analysis, you'll be able to make informed decisions when placing your bets.
But that's not all. KingPin.pro also offers access to expert handicappers and their boxing picks. These handicappers are experts in their field, with a proven track record of success, making their boxing fantasy picks and boxing picks tonight reliable and valuable. Users can purchase picks from handicappers for a variety of sports, including the NBA, NFL, MLB, and more.
In addition to expert picks, KingPin.pro also allows users to place their own picks and compete for a spot in the top 10 leaderboard. This is a great opportunity to test your skills against other sports bettors and potentially earn a payout if your pick makes it to the top 10.
One of the unique features of KingPin.pro is that users can view all the picks on the site, not just those from the handicappers they choose to follow. This allows users to gain more insight into the overall trends and predictions of the community and make more informed betting decisions.
Overall, KingPin.pro is a comprehensive and user-friendly platform for sports bettors looking for the best boxing parlays and boxing picks. Whether you're a seasoned bettor or new to the game, this app offers valuable insights and expert advice to help you make informed decisions and potentially earn some money. So, download KingPin.pro today and start betting like a pro!
#1

last 30 days winnings
($452)
#2

#3