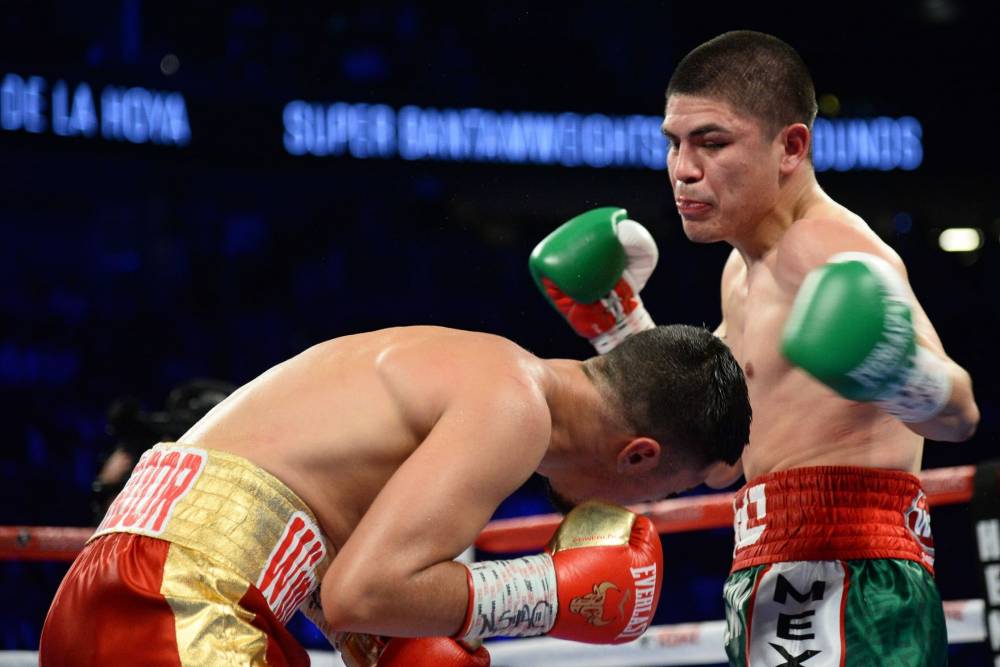 Diego De La Hoya vs Victor Morales Jr Prediction Boxing 4/29
Apr 28, 2023, 8:06:34 AM
© Joe Camporeale-USA TODAY Sports
Introduction
The highly anticipated boxing match between Diego De La Hoya (24-1-0) and Victor Morales Jr (17-0-1) is generating excitement among boxing fans. In this article, we will provide a detailed analysis of both fighters, their styles, strengths, and weaknesses, before giving our final prediction on who will emerge victorious. Join us on KingPin.pro for boxing picks and parlays, boxing fight predictions, and boxing picks tonight as we break down this thrilling matchup.
Diego De La Hoya
Hailing from Mexicali, Baja California, Mexico, Diego De La Hoya is a 28-year-old fighter with a professional boxing record of 24 wins and only one loss. His aggressive style and solid foundation in boxing have earned him victories over notable fighters such as Enrique Bernache, Randy Caballero, and Renson Robles. With a height of 5'6" and a reach of 68.0", De La Hoya is a formidable opponent.
Strengths: Diego De La Hoya's greatest strength lies in his boxing experience and technique. His aggressive style often overwhelms his opponents, and his powerful punches have led to a number of KO/TKO victories. Additionally, his excellent footwork allows him to control the distance and tempo of the fight.
Weaknesses: De La Hoya's main weakness is his susceptibility to cuts. In a previous fight against Jose Gonzalez, De La Hoya won by technical decision after an accidental head clash caused a cut. He should be cautious about exposing himself to head clashes in future fights.
Victor "El Tornado" Morales Jr
A 25-year-old American fighter from Vancouver, Washington, Victor Morales Jr boasts an impressive record of 17 wins, no losses, and one draw. His nickname, "El Tornado," is a testament to his swift, powerful, and unpredictable fighting style. At 5'7" and with a reach of 68.0", Morales Jr is a skilled boxer with a promising career ahead of him.
Strengths: Morales Jr's key strength is his ability to maintain a high work rate throughout a fight. His speed and precision allow him to land clean punches on his opponents consistently. Furthermore, he has demonstrated excellent defensive skills, making it difficult for opponents to land significant blows.
Weaknesses: Morales Jr's weakness is his relatively limited experience in the professional boxing scene. While he has an impressive record, he has yet to face fighters with the same level of experience and skill as De La Hoya. This lack of experience could be a disadvantage when facing a seasoned fighter like De La Hoya.
Prediction
After analyzing both fighters, we predict that Diego De La Hoya will emerge victorious in this match. His experience and aggressive style give him the edge over the less experienced Victor Morales Jr. Additionally, De La Hoya's powerful punches and excellent footwork will allow him to control the fight and potentially secure a KO/TKO victory.
However, it's crucial not to underestimate Morales Jr, who has proven himself to be a skilled and capable fighter. He could surprise us with his speed, precision, and defensive skills. Nevertheless, based on our analysis, De La Hoya remains the favorite in this matchup.
Pick: Diego de la Hoya ML -225
Upgrade to View Prediction
#1

last 30 days winnings
($1,471)
#2

#3