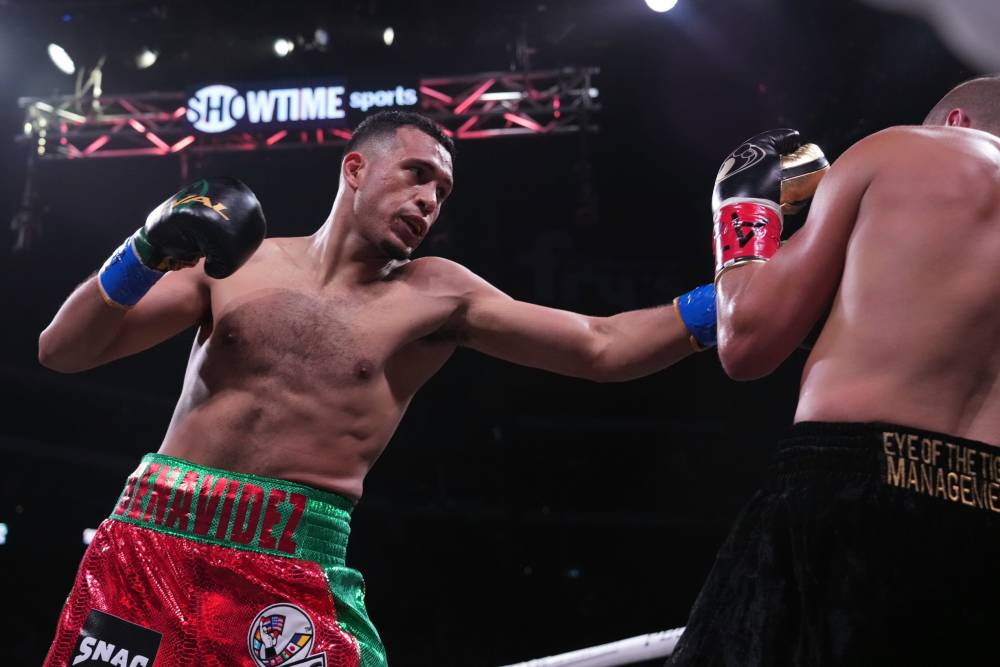 David Benavidez vs Caleb Plant Prediction for March 25th
Mar 23, 2023, 1:45:18 AM
David Benavidez vs. Caleb Plant
The boxing world is eagerly anticipating the much-anticipated bout between David Benavidez and Caleb Plant on March 25, 2023. This will be a thrilling matchup as both fighters are accomplished boxers with impressive records. The fight will be held at a neutral location, and fans are expecting an explosive encounter between two of the best fighters in the world. Based on this analysis, we will make a final prediction on the likely outcome of the bout.
David Benavidez
David Benavidez, also known as "El Bandera Roja," is a Mexican-American professional boxer. He was born on December 17, 1996, in Phoenix, Arizona. He started boxing at a young age, and by the time he turned 16, he had won numerous amateur titles.
Benavidez turned pro in 2013, and since then, he has built an impressive record of 26-0-0 with 21 knockouts. He is a two-time WBC super middleweight champion, and at 26 years of age, he is considered one of the best boxers in his weight class.
Benavidez is known for his explosive power and relentless aggression inside the ring. He has a reach of 77 inches and stands at 6'2", making him a difficult opponent to face. He has knocked out 80% of his opponents, and his KO power is a threat to anyone who steps into the ring with him.
He is known for his powerful and aggressive style of fighting, often overwhelming his opponents with his sheer size and strength. He is particularly adept at fighting on the inside and landing heavy body shots, which can take a toll on his opponents as the fight progresses.
Despite his size and power, Benavidez is also a skilled boxer with excellent technical ability. He has a good jab and can use his footwork to cut off the ring and trap his opponents against the ropes. This combination of power and technical ability makes him a difficult opponent to prepare for and fight against.
He has faced some tough opponents throughout his career, including Ronald Gavril, Anthony Dirrell, and J'Leon Love, all of whom he defeated convincingly. He is known for his durability and toughness inside the ring, having never been knocked down or stopped in his professional career.
Caleb Plant
Caleb Plant, also known as "Sweethands," is an American professional boxer. He was born on July 8, 1992, in Henderson, Nevada. Plant started boxing at the age of 9, and he quickly developed his skills in the ring.
Plant turned pro in 2014, and since then, he has amassed a record of 22-1-0 with 13 knockouts. He is the current IBF super middleweight champion and has defended his title successfully in his last two fights.
Plant is known for his slick movement and footwork inside the ring. He has a reach of 74 inches and stands at 6'1", which makes him a tough opponent to beat. In terms of his fighting style, Plant is a skilled counterpuncher who excels at using his quick hands and feet to avoid his opponent's attacks while delivering his own. He has a high boxing IQ and is known for his strategic approach to fights. Plant is also an accurate puncher, with a 48% accuracy rate, which has helped him win fights on points.
Prediction
This fight promises to be an exciting encounter, with both fighters bringing different strengths and skills to the ring. However, David Benavidez has several advantages over Caleb Plant that give him the edge in this fight.
Firstly, Benavidez has a significant reach advantage over Plant. Benavidez's reach is 77 inches compared to Plant's 74 inches. This gives Benavidez the ability to keep Plant at bay and land punches from a safe distance.
Secondly, Benavidez has a lot more power than Plant. He has knocked out 80% of his opponents, while Plant has only knocked out 13 of his opponents. Benavidez's knockout power will be a significant threat to Plant, who will have to be careful not to get caught by one of his power punches.
Finally, Benavidez has shown that he can take a punch and keep coming forward. He has a granite chin and can absorb punches without being knocked down. Plant, on the other hand, has been knocked down in previous fights and will need to be careful not to get caught by one of Benavidez's power punches.
In conclusion, David Benavidez has the tools to defeat Caleb Plant in this fight. He has a significant reach advantage, more power, and a chin that can absorb punches. Plant will put up a good fight, but ultimately, Benavidez will win.
Pick: David Benavidez -300
Are you a box fan looking for the best boxing picks and parlays for your next fight night? Look no further than KingPin.pro, the top-rated sports betting app available on both iOS and Android. With real-time odds, public betting data, and comprehensive data analysis, you'll be able to make informed decisions when placing your bets.
But that's not all. KingPin.pro also offers access to expert handicappers and their boxing picks. These handicappers are experts in their field, with a proven track record of success, making their boxing fantasy picks and boxing picks tonight reliable and valuable. Users can purchase picks from handicappers for a variety of sports, including the NBA, NFL, MLB, and more.
In addition to expert picks, KingPin.pro also allows users to place their own picks and compete for a spot in the top 10 leaderboard. This is a great opportunity to test your skills against other sports bettors and potentially earn a payout if your pick makes it to the top 10.
One of the unique features of KingPin.pro is that users can view all the picks on the site, not just those from the handicappers they choose to follow. This allows users to gain more insight into the overall trends and predictions of the community and make more informed betting decisions.
Overall, KingPin.pro is a comprehensive and user-friendly platform for sports bettors looking for the best boxing parlays and boxing picks. Whether you're a seasoned bettor or new to the game, this app offers valuable insights and expert advice to help you make informed decisions and potentially earn some money. So, download KingPin.pro today and start betting like a pro!
#1

last 30 days winnings
($334)
#2

#3