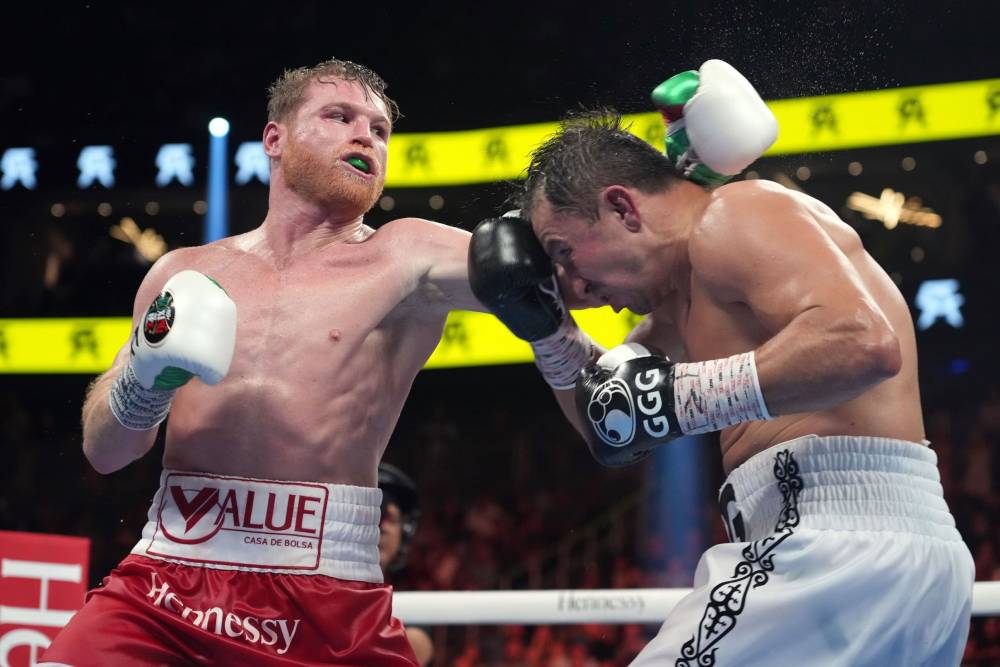 Canelo Alvarez vs Jermell Charlo Prediction Boxing 9/30
Sep 29, 2023, 11:26:43 PM
© Joe Camporeale-USA TODAY Sports
Canelo Álvarez vs. Jermell Charlo: Boxing Predictions and Analysis
Welcome to KingPin.pro, your trusted source for boxing picks and parlays. In this article, we will provide a comprehensive analysis of the highly anticipated bout between Canelo Álvarez and Jermell Charlo, set to take place in Las Vegas, Nevada. Join us as we explore the backgrounds of these two elite fighters, assess their strengths and weaknesses, and offer a prediction.
Review of Canelo Álvarez
Canelo Álvarez, often referred to as the pride of Guadalajara, Jalisco, Mexico, boasts an impressive professional record of 59 wins, 2 losses, and 2 draws. At the age of 33, Álvarez remains a dominant force in the world of boxing, captivating audiences with his skill and charisma.
Standing at 5'8" with a reach of 70.5", Canelo possesses a unique combination of power and precision. His boxing style is rooted in the art of boxing, and under the guidance of his coach Eddy Reynoso, he has honed his skills to perfection.
Canelo's recent victories, including decisive wins against John Ryder and Gennadiy Golovkin, highlight his exceptional talent and adaptability in the ring. His ability to adjust his strategy during a fight makes him a formidable opponent.
Moreover, Canelo's journey to greatness has been marked by his dedication and willingness to face the best in the business. He has consistently challenged himself by taking on top-tier opponents, and this fearless approach has solidified his status as a boxing icon.
One key attribute that sets Canelo apart is his ring IQ. He possesses a deep understanding of the sweet science, allowing him to read his opponents and exploit their weaknesses. This mental acumen, combined with his physical prowess, makes him a complete fighter.
Review of Jermell Charlo
Jermell "Iron Man" Charlo, representing Richmond, Texas, brings his own impressive record to the ring, with 35 wins, 1 loss, and 1 draw. Standing at 6'0" with a reach of 73.0", Charlo is a physically imposing figure in the super middleweight division.
Charlo's fighting style is characterized by his ability to control the distance and deliver powerful blows. His defensive skills and counterpunching ability make him a challenging opponent for anyone in the division.
While Charlo lacks Canelo's extensive experience, he compensates with his determination and technical prowess. His recent victories, including a win against Brian Castano, showcase his knockout power and boxing skills.
It's important to note that Charlo's journey to this high-profile fight has been marked by resilience and a relentless pursuit of excellence. He has overcome adversity and continuously improved his craft, earning his spot as a top contender.
One of Charlo's standout qualities is his ability to adapt in the ring. He can assess his opponent's strategy and make necessary adjustments, a skill that will be put to the test against the crafty Canelo.
Moreover, Charlo's discipline and work ethic cannot be underestimated. He trains rigorously, leaving no stone unturned in his quest for victory. His dedication to his craft is evident in his performances inside the squared circle.
Key Factors for Canelo's Victory
As we delve deeper into this matchup, several key factors emerge that favor Canelo Álvarez in this high-stakes battle:
Experience: Canelo's extensive experience against elite opponents gives him a significant advantage. He has faced a who's who of boxing, including Mayweather, Golovkin, and Plant, and emerged victorious or put up a strong fight in each encounter. This wealth of experience will serve him well against Charlo.
Adaptability: Canelo's ability to adapt to different styles and strategies is unparalleled. He can shift gears mid-fight, making it challenging for opponents to predict his next move. Charlo's boxing style, while powerful, may not be enough to catch Canelo off guard.
Mental Toughness: Canelo's mental fortitude is a crucial asset. He remains calm under pressure, strategizes effectively, and doesn't get rattled by adversity. In a high-stakes bout like this, maintaining composure is vital, and Canelo excels in this department.
Strategic Approach: Canelo and his coach, Eddy Reynoso, are known for their meticulous game plans. They analyze opponents' strengths and weaknesses, devising strategies to exploit vulnerabilities. Charlo will have to contend with a game plan tailored specifically for him.
Prediction
After a thorough analysis of both fighters and considering the key factors at play, we predict that Canelo Álvarez will emerge victorious in this highly anticipated showdown against Jermell Charlo. While Charlo possesses undeniable talent and power, Canelo's experience, adaptability, and mental toughness will be the deciding factors in this bout.
We anticipate an intense and competitive fight, with both fighters showcasing their skills and determination. However, as the rounds progress, Canelo's ability to adjust to Charlo's style and exploit openings will become evident.
While Charlo's power is a threat, Canelo's defensive skills and boxing IQ will allow him to avoid significant damage. As the fight reaches its climax, Canelo will take control, potentially securing a victory by unanimous decision.
Regardless of the outcome, this matchup promises excitement and a display of elite boxing skills. It's a must-watch event for boxing enthusiasts, and the clash of styles between these two talented fighters will leave fans on the edge of their seats.
Pick: Canelo Alvarez ML -400
Fun Bet: Canelo Alvarez in 7-12 rouns +400
Upgrade to View Prediction
#1

last 30 days winnings
($452)
#2

#3