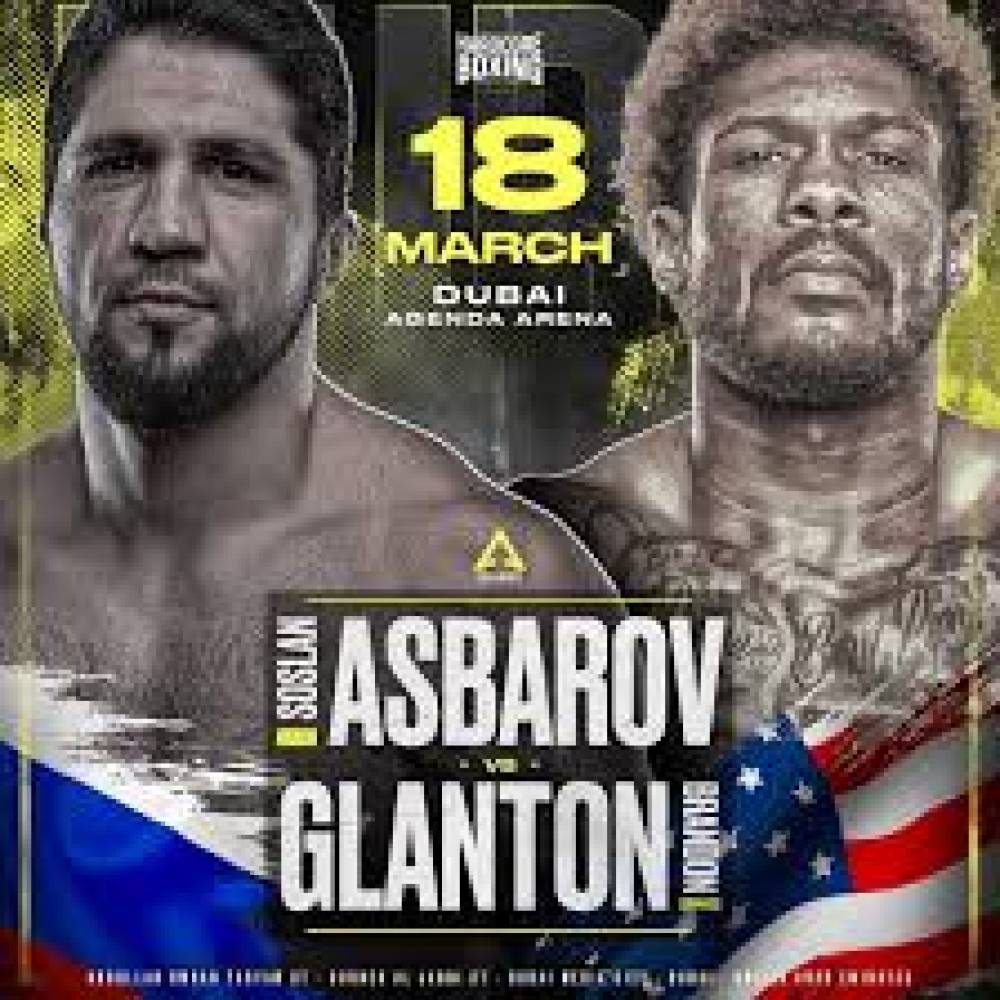 Brandon Glanton vs. Soslan Asbarov Prediction, 03/18
Mar 17, 2023, 10:14:31 PM
Brandon Glanton vs. Soslan Asbarov
On March 18th, 2023, the Agenda Arena in Dubai, United Arab Emirates will play host to an exciting cruiserweight bout between Brandon Glanton of the USA and Soslan Asbarov of Russia. This fight promises to be an interesting matchup between two fighters with contrasting fighting styles and backgrounds.
Brandon Glanton
Brandon Glanton has been one of the top cruiserweights in the world since he turned pro in 2018. He has a remarkable record of 17-1, with 14 of those victories coming by way of knockout. His only loss came at the hands of Alexey Zubov in 2019, but he has since bounced back with impressive victories over opponents such as Jackson Vroman, Antonio Tarver Jr., and Herve Hubeaux.
Glanton is known for his power, with an impressive 82% knockout ratio. He possesses a relentless style, often overwhelming opponents with his heavy punches and unrelenting pressure. Additionally, he has a long reach of 79 inches, which he uses to his advantage to keep opponents at bay and set up his big shots.
Soslan Asbarov
Soslan Asbarov is a relatively unknown boxer with a professional record of 3 wins and 1 knockout. While he may not have the same level of experience as Glanton, he has shown some potential in his short career. Asbarov possesses decent power, with a knockout ratio of 33%, and his height advantage could come in handy against Glanton.
However, it is worth noting that Asbarov has yet to face a ranked opponent in his career. Glanton represents a significant step up in competition for him, and it remains to be seen how he will fare against such a tough opponent.
Prediction
Glanton's fighting style is characterized by his explosive punching power and aggressive fighting approach. He is not afraid to take risks and is known to go for the knockout from the opening bell. Asbarov, on the other hand, is a more methodical fighter who relies on his technical skills and ring IQ to outmaneuver his opponents.
Despite Asbarov's technical prowess, it is unlikely that he will be able to keep up with Glanton's power and aggressive fighting style. Glanton's experience in the ring and impressive knockout record give him a clear advantage in this matchup.
Furthermore, Glanton has been more active in the ring, having fought most recently 106 days prior to the fight, whereas Asbarov has been inactive for 83 days. This additional time in the ring and Glanton's consistent training and preparation leading up to the fight will give him an edge over his opponent.
It is likely that Glanton will win this fight by knockout or technical knockout. His impressive record and fighting style make him a force to be reckoned with in the cruiserweight division. Asbarov will have to rely on his technical skills and ring IQ to avoid being knocked out early on in the fight, but it is unlikely that he will be able to keep up with Glanton's aggressive approach.
Pick: Brandon Glanton +110
Are you a box fan looking for the best boxing picks and parlays for your next fight night? Look no further than KingPin.pro, the top-rated sports betting app available on both iOS and Android. With real-time odds, public betting data, and comprehensive data analysis, you'll be able to make informed decisions when placing your bets.
But that's not all. KingPin.pro also offers access to expert handicappers and their boxing picks. These handicappers are experts in their field, with a proven track record of success, making their boxing fantasy picks and boxing picks tonight reliable and valuable. Users can purchase picks from handicappers for a variety of sports, including the NBA, NFL, MLB, and more.
In addition to expert picks, KingPin.pro also allows users to place their own picks and compete for a spot in the top 10 leaderboard. This is a great opportunity to test your skills against other sports bettors and potentially earn a payout if your pick makes it to the top 10.
One of the unique features of KingPin.pro is that users can view all the picks on the site, not just those from the handicappers they choose to follow. This allows users to gain more insight into the overall trends and predictions of the community and make more informed betting decisions.
Overall, KingPin.pro is a comprehensive and user-friendly platform for sports bettors looking for the best boxing parlays and boxing picks. Whether you're a seasoned bettor or new to the game, this app offers valuable insights and expert advice to help you make informed decisions and potentially earn some money. So, download KingPin.pro today and start betting like a pro!
#1

last 30 days winnings
($452)
#2

#3